Week 1 Session Update - Rep. Joseph Gullett HD19
January 16th marked the end of the first week of the session - that's four legislative days already under our belt! There's no doubt that the Capitol is a whirlwind of activity.
During this first week of the session, Governor Brian Kemp gave his State of the State Address. This address is important to legislators for two key reasons. First, Governor Kemp presents a picture of the current state of Georgia, not just our wins but also areas that can still be improved upon. Second, Governor Kemp shares his administration's priorities for the year. This information is given consideration as we craft the annual budget.
We were honored to have U.S. Senator Johnny Isakson in attendance for the State of the State Address. Senator Isakson is retiring after 15 years of service to Georgia. In his honor, UGA will create the Johnny Isakson Professorship for Parkinson's Research. I share the Governor's hope that this initiative will contribute to new advances in treatment for patients.
Also during this first week of the session, House Resolution 885 was adopted. I introduced HR 885 to recognize 9-1-1 professionals as first responders. During my time as President of the Paulding Public Safety Appreciation board, I had the opportunity to meet 9-1-1 professionals and learn about the critical role they play.
The vitality of the role played by 9-1-1 professionals cannot be overstated. Their skill, expertise, and aptitude save lives - not only of citizens but of our field responders as well. These men and women are undoubtedly first responders. For a person needing help, be it fire, police or medical, the 9-1-1 professional is their first line of communication. Frequently these situations are incredibly stressful, and our 9-1-1 professionals handle them with compassion, empathy, and professionalism.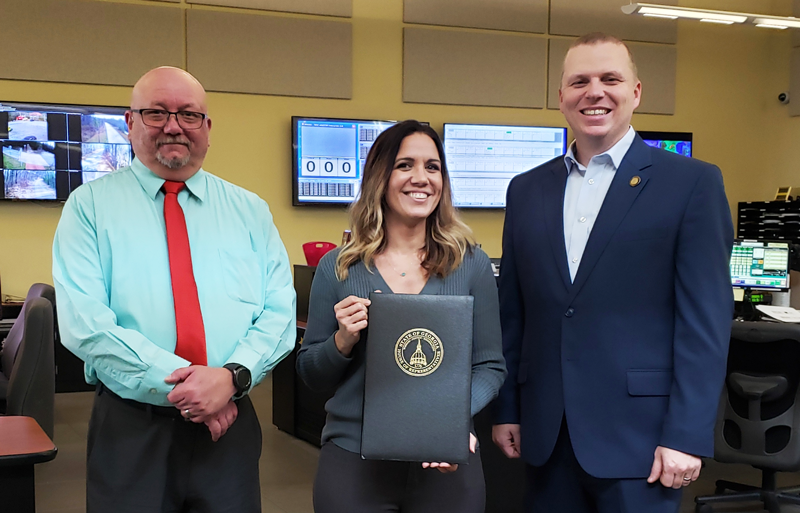 In addition to HR 885, these past several months, I have been working diligently on a piece of legislation that has the potential to further enhance Georgia's already fertile business environment. HB 785 allows remote online notarization and electronic notarization of certain documents. Several states have already taken this step, and I believe Georgia should do the same.
A simple summation of a notary public's role is to verify the identity of signers to important documents. Traditionally, this act has been performed in person, with the notary public and the signer in the same room. HB 785 will allow that same process to be conducted remotely online via a video phone call. If Georgia is to remain the number one state in which to do business, then as a state we must adapt to change. Remote online notarization presents businesses with the opportunity to further digitally transform their consumer experience, leading to greater efficiency, convenience, and improved customer experience.
As I look back on this past week, I can say that the session is off to a great start. I'm looking forward to all that's ahead. Thank you for allowing me to represent House District 19. As always, you can reach me through email at and by phone at 404-656-0177.