On Aug. 18, The Nature Conservancy in Georgia, in partnership with the U.S. Fish & Wildlife Service, the Georgia Department of Natural Resources and Paulding County officials finalized the placement of a new free span bridge that plays a key role in both an important fish passage project and in creating safer access to the Sheffield Wildlife Management Area (WMA) and nearby homes.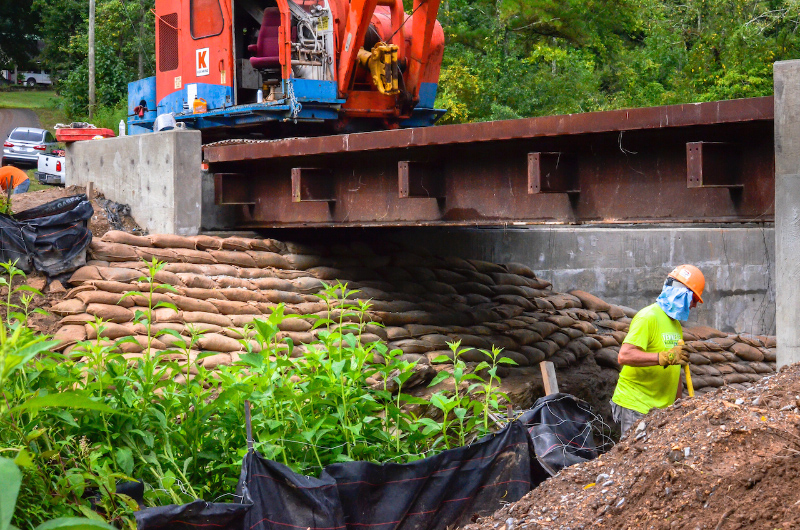 Pegamore Creek is a large tributary of Raccoon Creek, a high-priority subwatershed that harbors rare and federally threatened fish like the Cherokee darter. Located near the intersection of Lee Road and Braswell Mountain Road, Pegamore Creek runs under the primary access road to Sheffield WMA, a popular location for recreation and hunting.
A series of culverts had been installed at the crossing to maintain the flow of water but were consistently choked with tree branches and refuse. According to The Nature Conservancy's Coosa River Basin Program Director Katie Owens, this resulted in a barrier which prevented fish from moving freely up and down stream, potentially isolating and decreasing the fish population.
Owens also notes that the blocked culverts contribute to the creek flooding the road during stormwater events of a half inch or higher, making it unsafe to cross and literally trapping nearby residents in their homes and hunters in the woods.
The new bridge replaces the undersized culverts, resulting in improved road access and reconnecting populations of the Cherokee darter. When complete, the project will have a positive environmental impact on the health of the entire watershed.
The Conservancy appreciated working with local residents, including Billy Lee and Keith Lee of Dallas, to make this project a success. With their support, Paulding County now has a permanent right of way on Lee Road, which will connect to the bridge and be maintained by the County.
The Nature Conservancy (www.nature.org), a leading global conservation organization, and its more than one million members have protected nearly 120 million acres worldwide. In Georgia, the Conservancy works to protect forests, improve waterways health and ensure a sustainable future for coastal and marine resources.
Written by Jared Teutsch, director of conservation, The Nature Conservancy in Georgia