Dallas Costco site development continues despite the impact of COVID-19 crisis
Despite the recent Declaration of Emergency implemented in Paulding County impacting many businesses and public facilities in connection with concerns due to the COVID-19 pandemic, not everything going on in the county has had to grind to a halt.
The work to bring a Costco location to Dallas has continued as planned on the 21-acre site on the north side of Ga. Hwy. 120, near the Gerber Collision business and the Paulding Dodge dealership in Dallas.
Early stages underway involve preparing the site for the 135,000- square-foot building and 700-plus parking space area, but the building's construction is several months away.
County Operations Manager Scott Greene, contacted by phone for comment, said that the work is thus far moving ahead on schedule.
"It's all heavy construction. I haven't heard of anything affecting their schedule at all," Greene said.
Greene acknowledged that even putting the building up should be okay given the nature of how the work is carried out.
"They're more spread out and more able to handle most activities better than some businesses," Greene said.
The COVID-19 pandemic has already had a crippling effect on some existing businesses and particularly small businesses, which Senator Mike Dugan R-Carrollton, characterized recently as "being eaten alive" by the crisis.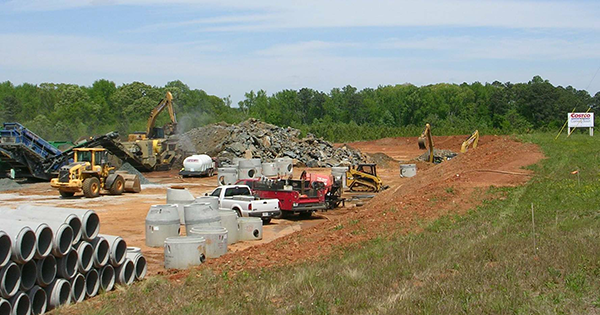 The Washington state-based company's plans are to open the store by the first quarter of next year. Costco is a membership warehouse club and operates 11 stores in metro Atlanta.
According to Yoram Rubanenko, senior vice president, general manager Southeast Region for Costco, the Paulding store will be the 14th in the state, 69th in the Southeast region, and 12th in metro Atlanta.
Costco employs 300,000 in the state, Rubanenko noted at the Dallas site's ground-breaking event held early this year.
Plans submitted in 2018 to Paulding County government showed the building as a one-story retail building, with 700-plus parking spaces on the right and rear sides – or east and north sides, to be built on the north side of Ga. Hwy. 120, near the Gerber Collision business and the Paulding Dodge auto dealership in Dallas.
Part of the work will involve adding a traffic signal at what will be the store's main entrance off Hwy 120.
According to its website, the company's first location opened in 1976 under the Price Club name in San Diego. It opened its first warehouse location in Seattle, Washington in 1983 and now has more than 200 locations worldwide.