8th Graduation of the Paulding Judicial Circuit Drug Court Program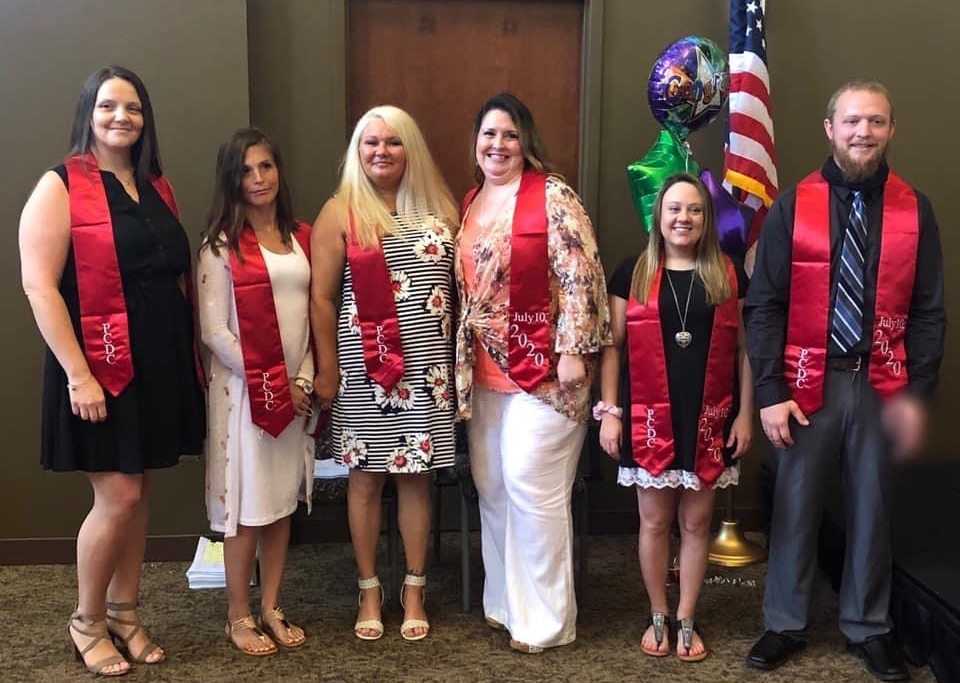 The Paulding Judicial Circuit Drug Court Program celebrated its eighth graduation on Friday, July 10, 2020. Since its creation in January 2016, the program has inducted ninety-seven participants, forty- two of whom have now graduated. Given Covid-19 concerns, the graduation was semi-virtual. Only the six graduates and a limited number of supporters, including the Drug Court Team, attended in person. Other participants and community members tuned in remotely via Zoom. Masks were worn but were removed for photographs.
Every new participant in the program is required to attend group treatment four days a week, individual and family treatment as ordered, twelve-step classes, and more. Program meetings have become largely virtual. For example, whereas participants used to attend twelve-step meetings in person, they now attend virtual meetings, sometimes with people from across the globe.
Participants are also required to be home by curfew, prepare for their GED if they do not have a diploma, pay a weekly supervision fee, and attend court every Friday (also virtual during the pandemic.) The minimum length of the program is eighteen months, but the average time it takes to graduate is about two years. It can take longer, and some participants are ejected and never graduate. Those who are expelled from the program typically have their probation revoked and face a likely prison sentence.
The Georgia Department of Corrections has an annual budget of $1.2 billion and houses 52,000 prison inmates. About one-third of those inmates will be released each year, only to have about one- third of those released back behind bars again within the following three years. Drug court programs were introduced as part of an attempt to get better results at a better price. As has become a custom at graduations, Judge Bucci compared the criminal histories of the program's graduates during the two years immediately prior to entering Drug Court with their criminal histories during the approximately two-year period after entering Drug Court. The numbers show a more than 95% reduction in new arrests.
Participants and their families shared their stories during the ceremony. Some of the graduates became parents while in the program, all found employment, and some obtained their GED. One graduate went from living life in various motels to finally having her own home. Some graduates went years without a driver's license and completed the various steps and conditions required by the State to earn a license again. Graduates also paid restitution required by their sentencing orders.
Forrest Lane, Chief Community Supervision Officer for the Paulding Judicial Circuit, was the guest speaker. Chief Lane is a Marine Corps veteran, has a degree in criminal justice and a master's degree from Boston University, and is a certified substance abuse counselor. Among other things, Chief Lane spoke on the importance of self-respect.
Judge Bucci reminded those in attendance that the Drug Court program is a team effort. Special thanks were extended to the Paulding legislative delegation, the County Commission and County Finance, the District Attorney, Sheriff, Circuit Public Defender, Department of Community Supervision, Court Administrator, members of the Drug Court Team, and others who make the Program possible.