Chattahoochee Tech Providing Skilled Welders for Lane Mechanical Inc.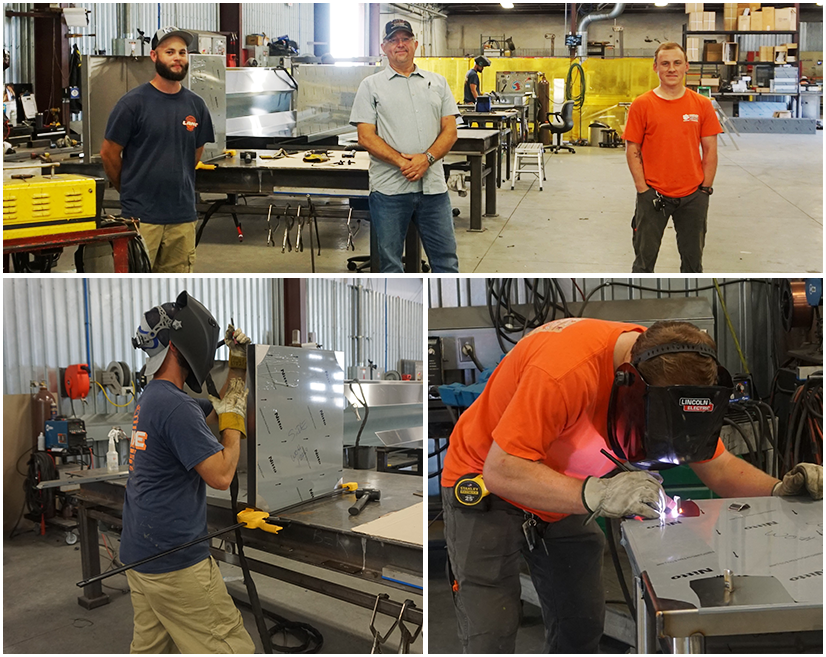 Acworth, Ga. – July 30, 2020, Chattahoochee Technical College students are stepping directly from the college's welding classes into the community's skilled workforce at Lane Mechanical Inc.
Based in Paulding County, Lane Mechanical Inc. designs, engineers and manufactures commercial kitchen and foodservice equipment for customers worldwide, including restaurants, hotels, government facilities, schools, and corporate kitchens. Chattahoochee Tech welding program graduates William Jesse Cox and Wade Nichols, along with Chattahoochee Tech student Wes Lindsay, are producing products at Lane Mechanical Inc. that comply with the highest level of industry-specific standards for quality, safety and performance.
"They are well-grounded in what they've learned at Chattahoochee Tech," said business owner Randy Lane. "They take their skill sets and get an idea quickly of what it's like working in the real world. Welding is a skilled trade that they can use throughout life, and that's an awesome thing."
"We build all of the things you see in a large commercial kitchen like all the NSF certified stainless steel sinks, work tables, and beverage counters," said Lane. "We've been in business since 1983, and we're currently shipping products all over the country. We even have products globally. We're on several continents."
Chattahoochee Tech graduate William Jesse Cox, who is a Kennesaw Mountain High School graduate, enrolled at Chattahoochee Tech after serving in the U.S. Air Force for four years. "After the military, I went to Chattahoochee Tech because I had a wife and a baby, and school was shorter and more affordable," said Cox. "Chattahoochee Tech also helps veterans, and there is a big focus on helping students get jobs." Cox credits Chattahoochee Tech welding instructor Jim Thomas with securing the job for him at Lane Mechanical Inc. "My favorite thing about Chattahoochee Tech was Jim Thomas," said Cox. "He made it fun every day, but he always pushed you to do better. Even if you had a good weld going on, he would say, 'You can do better.'"
Chattahoochee Tech welding student Wes Lindsay, who works part-time at Lane Mechanical Inc., also noted that his favorite thing about Chattahoochee Tech is the "world-class instruction" from Jim Thomas. "Welding just clicked with me the way he taught it," said Lindsay. "I have to admit, I came in not knowing anything, and I've learned a lot more that I thought I would. I'm excited about the opportunities I have in this field even at this point."
Lindsay is a recent graduate of North Paulding High School who found his way to Chattahoochee Tech after deciding to go into a skilled trade. "I came out of high school not knowing what I wanted to do," said Lindsay. "Change is very difficult once you get out of high school." But with encouragement from his parents, and noting that his grandfather was a welder and machinist, Lindsay decided to pursue welding. "The pay for it is very good, and there is a big demand for it," said Lindsay. "I was set on going to Chattahoochee Tech for welding because of the Hope Career Grant. You can get a lot of school paid for with it."
Lindsay is on track to graduate from Chattahoochee Tech next summer and balances school with working at Lane Mechanical Inc. "I'm very blessed to be working here," said Lindsay. "I'm taking one summer class at Chattahoochee Tech, so I'm working here as much as they let me this summer. Chattahoochee Tech is doing a fantastic job at teaching students real-world skills."
What advice would both Lindsay and Cox have for any person considering a career in a skilled trade like welding? "Try to find something that you're passionate about, and stick with it," said Lindsay. "Try to learn and try to improve every day. It will be so much easier for you if you start early."
"If you want to get into a trade, go ahead and do it," said Cox. "Get into it as quickly as you can, and learn all you can. Back when I was in high school, they were pushing for more of a four-year college degree. But working in a skilled trade is a good option. I came here to weld, and Lane Mechanical is a great place to keep learning. I'm excited to keep improving."
For more information, visit www.ChattahoocheeTech.edu.