Paulding Chamber of Commerce October Fundraiser Campaign Kicks Cancer in the Can
The Paulding Chamber of Commerce introduced a new fundraising and awareness campaign during October. Kick Cancer in the Can provides an opportunity for local businesses to help raise money for those here in Paulding who have been affected by breast cancer.
Throughout October, businesses can participate by raising money and donating to the chamber for this initiative to help local radiation and chemotherapy centers.
"We'll be using a portion of the proceeds to supply local chemotherapy and radiation centers with items of comfort for those in treatment and also encourage anyone who is a breast cancer survivor or currently fighting the fight against breast cancer, to please call the Chamber office for a complimentary custom inspirational T-shirt," explained Paulding Chamber President Stacy Hamby.
"We have reached out to Yolanda Newell, local business owner of I Focus Apparel to design an inspiring T-shirt to be given away to any survivor or current fighter of breast cancer," she said. Ms. Hamby gave the details of how the campaign works.
The first person to pledge a minimum $50 donation gets to say where to deliver the custom trash can; she will drop it off at any business location or office. They'll be asked to make a call for trash pick-up by making a donation to the Kick Cancer in the Can campaign.
"I will come and take a photo of that business to promote on social media as a supporter of breast cancer awareness, pick up the can and then relocate it to the business of their choice where I will surprise deliver the can and ask for their support," she said. Hamby acknowledged E Dennis Air Conditioning and Heating for sponsoring this initiative and who has recently had an employee whose wife has been diagnosed after early detection.
"Our love, support and prayers go out to her and the E. Dennis family," Hamby said.
Joining E Dennis as sponsors, local businesses include College Hunks Hauling junk - Jarid Ison and Homestar Financial, and Ben Hill Renovation.
"We created this campaign as a way to support our local residents who have been affected by this terrible disease and are proud to have so many businesses support our efforts," Hamby said. And Hamby said the Paulding Chamber is dedicating their fall Empowering Women's program on October 28 in support of this initiative by spotlighting Post 2 Commissioner Sandy Kaecher who will share her personal journey and triumph over breast cancer. This event will also host an Oncologist who will provide important information on the signs, symptoms, and importance of regularly scheduled mammograms.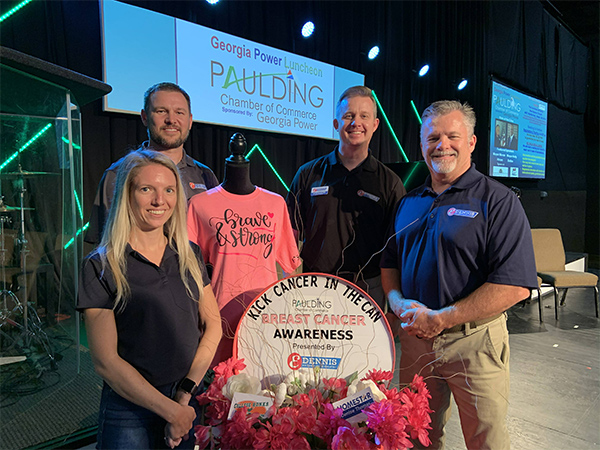 E Dennis Heating and Air team among sponsors for Kick Cancer in the Can, the Paulding Chamber's new local breast cancer awareness campaign during October that provides an opportunity for local businesses to help raise money for those affected by the disease. (Photo: Jody Martin/Paulding Chamber)