Fire Station 12 Completed; Goes Operational
Construction of Paulding Fire Station #12 has been completed and is slated to become operational this week, according to Fire Chief Joey Pelfrey. Pelfrey spoke to a small gathering of staff and county officials at Station 12 last week.
Station #12 is located on a 3-acre site at Wayside Lane and Spring Street. The original completion date for construction was targeted for October, but weather delays, such as Tropical Storm Zeta, and COVID- 19-related issues pushed that date back by about a month.
The Board of Commissioners approved Station 12 in February. Staff and a fire truck were approved by the board in this year's budget. Pelfrey said the station will add nine positions to staff the site round the clock with three per shift.
According to Steve Mapes, public information officer for Paulding County Fire Dept., the construction cost for Station 12 was $1.54 million.
Mapes said to date Station 12's first due residential addresses is just under 1,500. Additionally, the station will protect the Paulding Northwest Atlanta Airport, Poole Elementary school, a number of churches, and other commercial buildings.
The area that Station #12 will serve will improve the back-up capability in two directions to a large extent, according to Chief Pelfrey. Pelfrey said that Station #12 will be able to provide back-up for the west area of the county toward Rockmart and to both Stations #1 and #7.
"We have a lot of long response times out in those areas. And when you have to have back-up trucks it takes even longer, this will cut those response times in half," Pelfrey said. Pelfrey told last week's gathering that the new station will potentially lower insurance premiums for some citizens in that part of Paulding County.
The Insurance Service Office (ISO) rating system is a tool insurance companies utilize to measure risk and corresponding premiums. Station #12 is expected to lower the ISO rating to a '3' for some residences that are further than five miles from either Stations #1 or 7, but already have a hydrant located within 1000 feet, Mapes said in a previous interview, and he added that officially re-rating won't happen until the ISO bureau conducts their official review and reclassifies the area -- but it is imminent.
"It's customary that residences within five miles of a fully staffed fire station and 1000 feet from the nearest fire hydrant have lower premiums," Chief Pelfrey said, and added that "...it usually takes 90 days after we move in for insurance companies to recognize that." Residents would need to check with their insurance company to have them review their policy to see if they're eligible for a reduction in rates, Pelfrey said.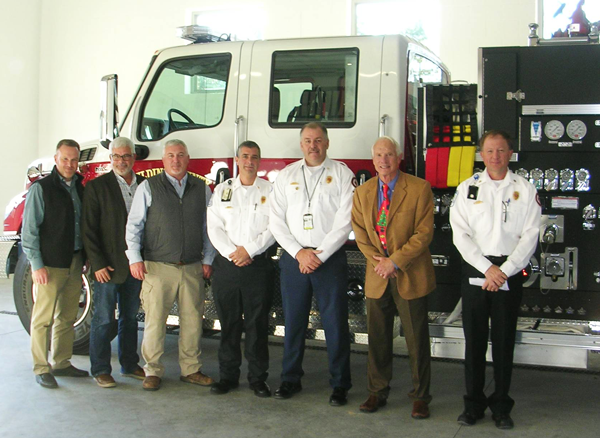 (Left to Right) Post 1 Commissioner-elect Keith Dunn, Post 3 Commissioner Chuck Hart, Post 4 Commissioner Brian Stover, Division Chief Kevin Hart, Division Chief Brandon Newsome, Commission Chairman Dave Carmichael, and Fire Chief Joey Pelfrey at Station #12 last week. (Photo: R. Grant)