CareLink Health Center: One of Paulding County's Best Kept Secrets
CareLink community health and resource center, providing low-cost, high-quality medical care and support resources, enters its third year of being open and ready to serve Paulding County residents that have no insurance or Medicare Part A only, and continues to be a best-kept secret – while hiding in plain sight.
And last week on Friday between 2-3 p.m. CareLink hosted a free drive-through food giveaway for families and/or individuals. All in tandem with Wellstar and Goodr (the sustainable surplus food management platform that leverages technology to reduce food waste and combat hunger.)
CareLink is Paulding County's only 100% volunteer-run primary care clinic located at 625 W. Memorial Dr. in Dallas. Open on Tuesday and Saturday mornings, CareLink operates by appointment only. Although it's not a free clinic, rates are extremely reasonable and 75-80% of all patient follow-up visits are $10 cash.
"Our providers are Internal or Family Medicine physicians as well as highly skilled nurse practitioners. Unlike an Emergency Department or Urgent Care visit, CareLink offers long-term, continuity of care for your chronic ailments," according to Rita Norris, chair, Board of Directors with Carelink.
"We invite you to 'try us out if you have the qualifications above by calling to schedule an appointment. If we're not in the office, a return call will be placed to you the next time we are at the clinic," she said.
Norris said plans are to expand services provided within the next year by offering an in-house limited dental clinic as well as a mental health counseling service.
CareLink also seeks to address a patient's holistic needs. Some of the offerings to Paulding County residents have been: Free Eye Exams and Eye Glasses purchases, Red Cross Blood Drive, free drive-thru Flu Vaccine shots, free EKG screenings, free Diabetes Education and Disease Management seminar, free Mental Health Assessments.
On August 14, 2021, CareLink will be holding its first major fundraiser to support these next critical needs. Save the date to plan to attend CareLink's Cattle Baron's Ball at Moonlight Stables, Norris said.
"Although we are not corporately registered as a faith-based organization, we are an organization based and driven by a deep faith in what we are doing. As we are directed, we will do our best to serve," Norris said.
According to data provided in a cost analysis study done in 2016 by Georgia State University, CareLink can potentially reduce the [patient] traffic to WellStar and "...save WellStar over $900,000 [per year] by decreasing the number of uninsured seen in the emergency department for non-emergency services."
Overall, the study noted, if CareLink's clinic sees 4,000 patients annually, it could save WellStar $915,266 through a reduction in their uninsured emergency department visits and hospitalizations. "If you have wanted to give back to the community or society as a volunteer, CareLink would love to have you consider us," Norris said. "We always need volunteers in our front office, our nursing team, and our providers."
Contact CareLink at 678-903-5103 to speak with them about your interest and they'll quickly respond, Norris said.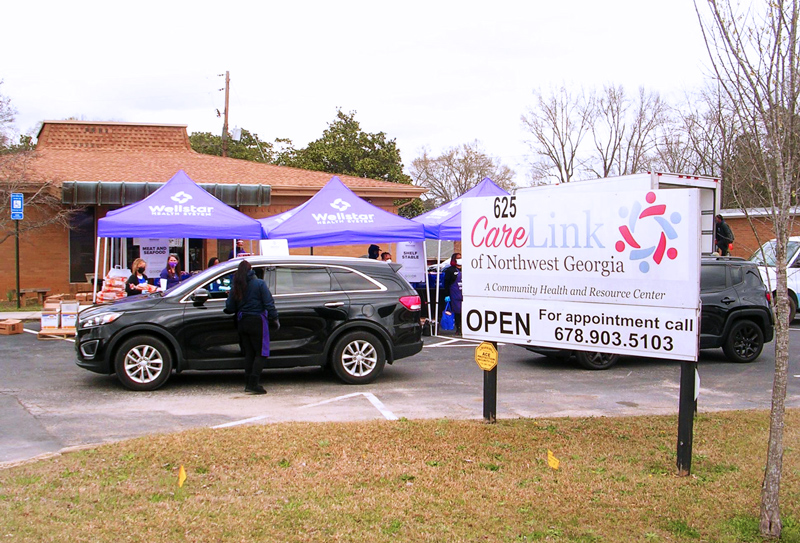 CareLink, Paulding County's only 100% volunteer-run primary care clinic hosted a free drive-through food giveaway last week for families and/or individuals in Dallas. (Photo: R.Grant)