Paulding County's Mental Health Accountability Court Announces Two Graduates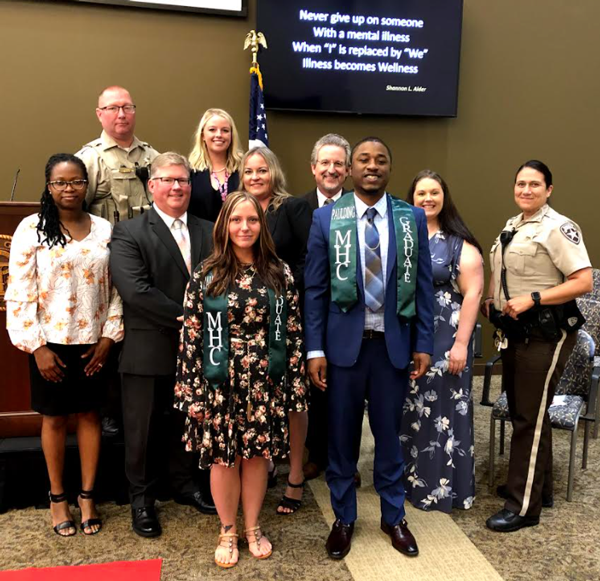 On June 10th, 2021, with many elected officials, members of the criminal justice system, and citizens in attendance, Superior Court Judge T. David Lyles graduated two participants from his 18 months Paulding County Mental Health Court Program. These individuals completed dozens of evidence-based classes and individual treatment sessions. They participated in random substance use screens, abided by strict curfews, and were gainfully employed by tax-paying employment. This program was an alternative to incarceration for both participants and thereby saved taxpayers approximately 15,000.00 annually per person.
The mission of the Paulding County Mental Health Court is to reduce recidivism for individuals who have contact with the criminal justice system as a result of mental health symptoms, by combining effective treatment and intensive judicial supervision in a therapeutic court setting that uses accountability, incentives, and individualized treatment plans to create an enhanced quality of life for the participant and a reduction in crime for the community.
Superior Court Judge T. David Lyles created this Accountability Court in 2018 to provide intensive supervision to individuals charged with felony offenses as a direct result of mental health symptoms in lieu of incarceration. The program uses a Problem Solving Court model where a combination of accountability and treatment promotes effective management of mental health symptoms. There is a non-adversarial courtroom atmosphere when Judge Lyles presides over this program. The Mental Health Court team works together with the participant toward an enhanced quality of life and decreased criminal justice involvement.
Those eligible for the program must have a mental health diagnosis or exhibit undiagnosed mental illness symptoms. Participants must agree to voluntarily engage in treatment and follow the recommendations of the treatment team. All participants must be at least 17 years of age, a Paulding County resident, and a United States citizen or legal resident. They also must have at least three misdemeanor charges pending, a pending felony, or felony probation violation. All participants must receive approval from the Court before admission.
Participants in the Mental Health Court program are required to attend frequent status review hearings, meet with Mental Health Court team members regularly, and comply with treatment and probation case management plans that are developed based on the participant's individual needs.
The program has several phases each consisting of different expectations and benchmarks for the participant. If an individual meets the requirements of each of the phases and the criteria for graduation, they are celebrated at a graduation ceremony with members of the community.
The Mental Health Court team consists of the following members:
Judge: Honorable T. David Lyles
Court Coordinator: Lauren Ortiz
Assistant District Attorney: Mike Viscuse
Public Defender: Megan Howerter
Community Supervision Officer: Christy Howard
Paulding County Sheriff's Office Lead Surveillance Officer: Sergeant Clint Barker
Treatment Providers: Delicia Julien LAPC & David Burris Level II Certified Addiction Counselor
Substance Use Screeners: Prompt Chemical Screening, Hiram, Ga.
Interested in Learning More?
If you or your organization is interested in learning more about the work that the Paulding County Mental Health Court does, please contact to schedule a speaking engagement. This training can be tailored to your group's needs and are perfect for community organizations wishing to learn more about the program.