Paulding County EMA Gains 10 New Volunteers in CERT Program
(Dallas, GA) Recently, the Paulding County Emergency Management Agency held its fourth Community Emergency Response Team (CERT) Basic Training Course with 10 new volunteers successfully completing the application and training requirements to hold a position on the team.
Training included classroom study and hands-on practical exercises in the following topics: disaster preparedness, CERT organization, disaster psychology, light search and rescue, fire safety and utility controls, terrorism, and disaster medical operations. These blocks of instruction were delivered on weekday evenings throughout the month of October at the Paulding County Fire Department Administration Training Room.
Graduates of the CERT Basic Training Course include Jordan Carter, Randall Cone, Joshua Hackman, Angela Hunter, Pamela Kinnaman, Derwent Langley, Jacob Moran, Shauna Nutt, Jasper Preston, and Elisabeth Smith.
The Federal Emergency Management Agency (FEMA) and the U.S. Department of Homeland Security promote the CERT Programs nationally as part of the Presidents Citizen Corps. FEMA supports CERT through grant funding and sponsoring training the trainer and program manager courses for members of the fire, medical, and emergency management community.
Paulding County EMA started its CERT Program in 2016 to assist with shelter management operations, search and rescue of missing persons, Skywarn storm spotter participation, and disaster recovery operations for incidents such as tornadoes or flooding. CERT Volunteers also assist with first aid, information, lost/found property, suspicious activity monitoring, and general safety at community events such as parades, festivals, and fireworks events.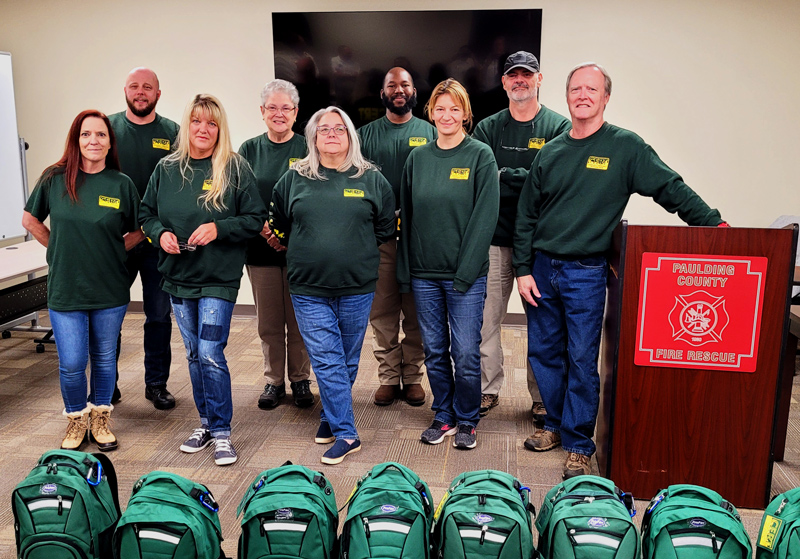 Photographed from left to right
(Back row): Joshua Hackman, Pamela Kinnaman, Jasper Preston, Randall Cone (Front row): Angela Hunter, Shauna Nutt, Elisabeth Smith, Jordan Carter, Dee Langley