Paulding Sheriff Launches Project Lifesaver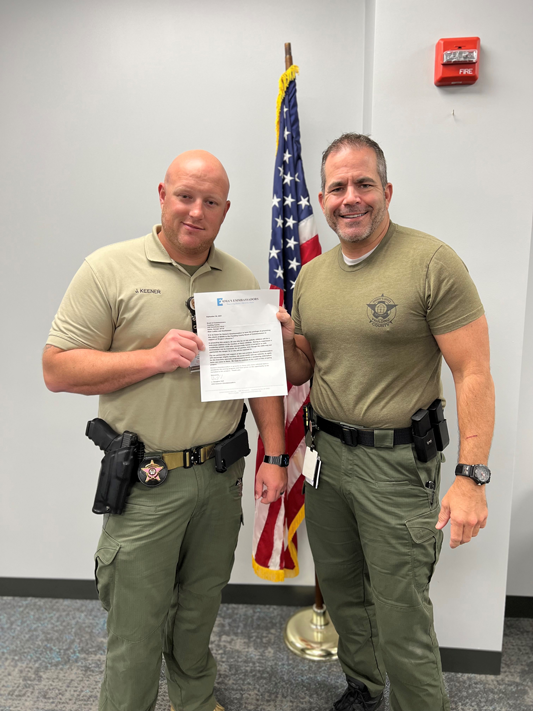 (Paulding County, GA) Sheriff Gary Gulledge is proud to announce the implementation of Project Lifesaver in Paulding County. Project Lifesaver is the premier search and rescue program operated internationally by public safety agencies and is strategically designed for "at-risk" individuals who are prone to the life-threatening behavior of wandering. The primary mission of Project Lifesaver is to provide timely responses to save lives and reduce potential injury for adults and children with the propensity to wander due to a cognitive condition.
The Paulding County Sheriff's Office was able to obtain this valuable equipment at no cost to our citizens through several grants. The Northwest Georgia Area Agency on Aging's Polk County office donated $10,000 and Emma's Emmbassadors donated $6500. Emma's Emmbassadors is a local 501(c)(3) non-profit that helps with Autism awareness in our community.
Participants wear a transmitter that is affixed either to the individual's ankle or wrist and it is about the same size as a standard wristwatch. If the participant goes missing or wanders off, the family member of the participant contacts Paulding E- 911 who in turn alerts Deputies and Detectives at the Sheriff's Office. Deputies and Detectives can then track the missing participant with the Project Lifesaver tracking device.
Sheriff Gary Gulledge stated, "We are so blessed to be able to help those with diminished capacity in our county. We are forever grateful to the Northwest Georgia Area Agency on Aging as well as Emma's Emmbassadors for their generous donations. Without their donations, we likely could not have made this happen in our community. Each participant packet, which includes a transmitter and everything you need to get set up, is around $275 each."
If you are interested in learning more about Project Lifesaver, please visit their website at www.projectlifesaver.org. If you would like to learn how to get your loved one registered for Project Lifesaver in Paulding County or would like to donate money, please call the Paulding County Sheriff's Office at (770) 443-3010 and ask to speak with Sergeant Josh Keener or Detective Chris Van Meter.