Lawrence University Sports News: Bellegarde among six Vikings chosen for All-MWC football team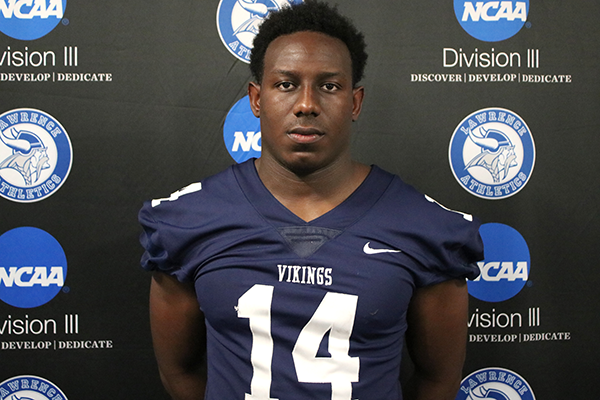 Appleton, Wis. -- Six Lawrence University football players have been chosen for the All-Midwest Conference team in a vote of league coaches.
Linebacker Eder Bellegarde and receiver/returner Cameron Wicks were both first-team selections. Safety/returner Terrell Myers was chosen for the second team on both defense and special teams, and quarterback D'Andre Weaver, receiver Tanner Morris, and defensive lineman Zachary Adams also were second-team picks.
The seven total selections are the most for the Vikings since seven selections after the 2006 season.
Bellegarde (Dallas, Ga./North Paulding) was a first-team pick for the second consecutive season after piling up 111 tackles. Bellegarde, who was a first-team selection in 2019, also piled up 12.5 tackles for loss and 4.0 sacks. Bellegarde, who led the Midwest Conference in at 12.3 tackles per game, had eight double-digit tackles game and piled up a season-best 15 tackles against Illinois College and Cornell College. Bellegarde also earned first-team honors in 2019.
Wicks (Melbourne, Fla./Central Catholic) was chosen for the all-conference team for the first time. He was a real threat on kickoff returns and averaged 20.5 yards per return. Wicks had a 95-yard kickoff return for a touchdown against Lake Forest, and that is the fourth-longest kickoff return in Lawrence history. Wicks also blocked a punt that resulted in a safety against Illinois College. As a receiver, Wicks was electric in the open field and finished with 36 catches for a team-best 593 yards and tied for team-best honors with eight touchdowns.
Myers (Marietta, Ga./Marietta) earned his third and fourth all-conference selections. He was a first-team pick at cornerback in 2017 and a second-team pick at cornerback in 2016. Playing safety in 2021, Myers finished with 42 tackles, including 2.0 tackles for loss, with a high of eight tackles at Grinnell College, at Cornell, and at Knox College. His biggest impact came with four interceptions, including two picks he returned for touchdowns against Cornell and Beloit College. He became the first player in Lawrence's history to return two interceptions for touchdowns in a season.
As a returner, Myers returned 13 punts for 177 yards, an average of 13.6 yards per return, and that ranks as the third-best season average in school history. He had a long return of 62 yards at Grinnell.
Weaver (Orlando, Fla./Oak Ridge) put together the best season of his career and was rewarded with his first all-conference selection. Weaver completed 185-of-345 passes for 2,250 yards and a school-record 23 touchdown passes. Weaver's 2,250 passing yards is the third-best total in school history, and his 4,061 career passing yards total ranks eighth-best in Lawrence history.
Weaver threw for a career-high 353 yards against Beloit and tossed a career-best four touchdown passes against both Beloit and in a non-conference win over Finlandia. He posted three 300-yard passing games this season and had seven games in which he threw at least three touchdown passes.
Morris (Apollo Beach, Fla./East Bay) was chosen for the all-conference squad for the second consecutive season after earning second-team honors in 2019. Morris grabbed 42 passes for 553 yards and tied for team-high honors with eight touchdown catches. Morris had his biggest game of the season when he caught eight passes for 168 yards and two touchdowns at Knox. He caught a touchdown pass in six of Lawrence's nine games and had two touchdown catches twice (Knox and Finlandia). Adams (Glenview, Ill./Glenbrook South) was a stalwart on the defensive line and earned his first all-conference honor. Adams piled up 52 tackles, including 9.5 tackles for loss and 2.0 sacks. Adams hit a season-high with eight tackles, all solo, at the University of Chicago. He had a season-best 4.0 tackles for loss against Finlandia and picked up sacks at Grinnell and Chicago.
Lawrence finished the season with a 2-7 mark under first-year head coach Tony Aker.
Bellegarde is third in all of NCAA Division III at 7.3 solo tackles per game, and he ranks fifth in Division III at 12.3 tackles per contest.