Hiram Mayor and Council recognize Hiram Elementary students with Citizenship Awards
Hiram Mayor Frank Moran and City Council recognized a group of Hiram Elementary School students with Citizenship awards last week during the council's Work Session.
"These students were recognized for demonstrating characteristic traits of a good citizen" explained Councilmember Melissa R. Bayardelle, in an email following the Work Session. "Last night was the first time that student recognition was extended into the Hiram City chambers to be recognized by the elected officials."
Bayardelle, a former Paulding school teacher, said she proposed doing the recognitions to the rest of the council in December.
The school is the only one within city limits, Bayardelle said, and students recognized will be nominated by teachers. About 77% of students at the school are classified as "economically disadvantaged" and it's a way to reach out and support the school. And additionally, Bayardelle is doing monthly readings online to students on civics topics.
"Our youth represents the best long-term investment we can make as a society," Bayardelle said.
The students recognized last week were: Kindergarten: Gabe Guest, First Grade: Lillian Baxter, Second Grade: Nora Adeyemi, Third Grade: Sofia Lopez, Fourth Grade: Kaiden Lee, Fifth Grade: Hannah O'Bryant.
Jason Waddell, owner of Outrageous Mini Golf on Atlanta Hwy in Hiram is supporting the monthly initiative by donating two complimentary passes for each student, she said.
Bayardelle, who also spoke by phone following the Work Session, said the City Council will continue to acknowledge the Hiram Elementary students on a monthly basis during future Work Sessions.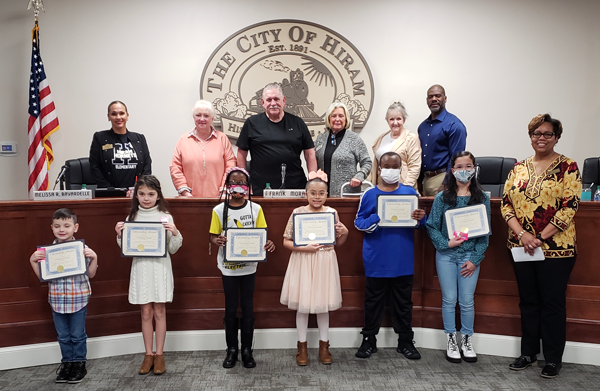 From left to right, Kindergarten: Gabe Guest, First Grade: Lillian Baxter, Second Grade: Nora Adeyemi, Third Grade: Sofia Lopez, Fourth Grade: Kaiden Lee, Fifth Grade: Hannah Bryant, Dr. Walton: Principal. (Back row, left to right): Councilmembers Bayardelle, Bookout, Mayor Moran, Devey, Philyaw, and Battle. (Photo: submitted/HCC)