Village at New Georgia partners with New Georgia Public Library and celebrates "Tall Tales and Bunny Tales"
DALLAS, GA (April 27, 2022) – Hop and hoorah! Fast friends were made as a first-time partnership was forged between Village at New Georgia tenants and New Georgia Public Library. Mr. Springtime and Peter Rabbit celebrated reading and everything spring during three events held in mid-April on the library grounds. This hopping-good duo hid colorful eggs while 300 children hunted, in several different categories, by age for the treats.
Each of the different groups of children received bags filled with prizes, including books, from Publix at Village of New Georgia, and the shopping center's owner, Halpern Enterprises, Inc. Parents were able to participate in drawings for gift cards from tenants such as Emmie and J Boutique.
"This partnership exceeded our expectations. The community was eager to celebrate spring, reading, and our great Village at New Georgia tenants. The library, located directly across the street from the shopping center, was an ideal partner. It was fun seeing the little guests searching for eggs, singing their favorite songs, and listening to stories led by Mr. Springtime. All the kids, big and small, had a great time." said Stacy Schuch, Marketing Director at Halpern Enterprises, owner of Village at New Georgia.
"The parents and kids couldn't stop talking about how much fun they had! Many of whom were library regulars and said this was our best event, ever. None of this would have been possible without the great tenant participation at Village at New Georgia and all of Halpern's generosity," said Jennifer Ramsey, Children's Specialist, New Georgia Public Library.
There was no charge to attend the "Tall Tales and Bunny Tales" event. Mark your calendars for next year's event as reservations will fill up fast!
For Village at New George tenant information visit www.halpernent.com, and for New Georgia, Public Library programming information visit www.wgrls.org/visit/newgeorgia.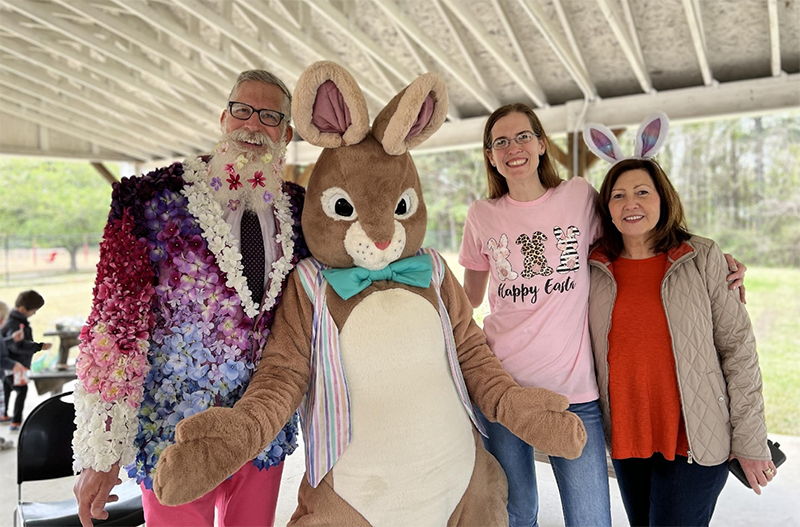 Pictured L to R: Mr. Springtime, Peter Rabbit, Jennifer Ramsey Children's Specialist New Georgia Public Library, Karen Woodlief 'Get Paulding Reading' Partnerships Program Coordinator
ABOUT HALPERN ENTERPRISES
Halpern Enterprises is a privately held commercial real estate firm specializing in retail leasing, management, acquisitions, and development. For more than 60 years, our collaborative, hands-on approach has created value for hundreds of tenants and resulted in the long-term success of our shopping centers. Headquartered in Atlanta, Halpern owns and operates more than 50 properties, totaling more than 3.7 million square feet, in Alabama, Georgia, North Carolina, South Carolina, and Tennessee. For more information, visit www.halpernent.com.