Zachary Williamson Memorial Scholarship Award North Paulding High School 2022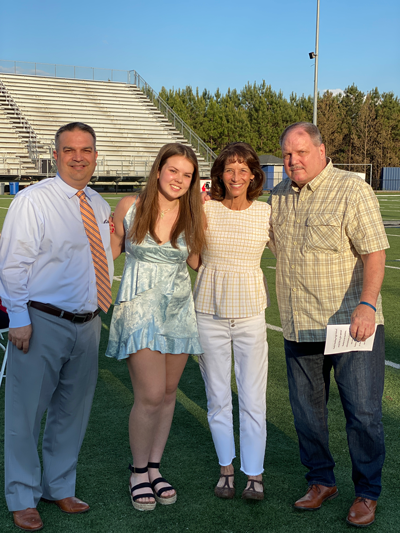 Congratulations to Delaney Brock, awarded the 11th annual Zachary Williamson Memorial Scholarship. Delaney is a senior graduating this year from North Paulding High Schools Class of 2022 in Paulding County, GA. The Zachary Williamson Memorial Scholarship Fund was developed to honor the memory of Zachary Williamson whose life ended on August 14, 2010, when he was killed in a car accident on Old Cartersville Road in Dallas, GA. Zach was on the NPHS football and wrestling teams and his love for sports and his fellow classmates are the reason his parents Mark and René Williamson established the scholarship fund. Each year, in memory of Zach, a student-athlete at NPHS is recognized with a $1500.00 scholarship to honor the students' commitment to outstanding character, excellence in the classroom, above-average morals, and dedication to their sport. Delaney Brock is a student with impeccable character who gives her all to everything she does. Delaney will be attending Toccoa Falls in the fall to pursue a degree in Biology/Pre-Med. Congratulations Delaney and good luck to you as you begin this new chapter of your life!
*Donations to the Zachary Williamson Memorial Scholarship Fund can be made to any Truist Bank.
Pictured from Left to Right – Mr. Gabe Carmona (Principal NPHS), Delaney Brock (recipient), René Williamson (Zach's Mother), Mark Williamson (Zach's Father)