Motor Vehicle Crash Leads to Suicide Attempt in Western Paulding County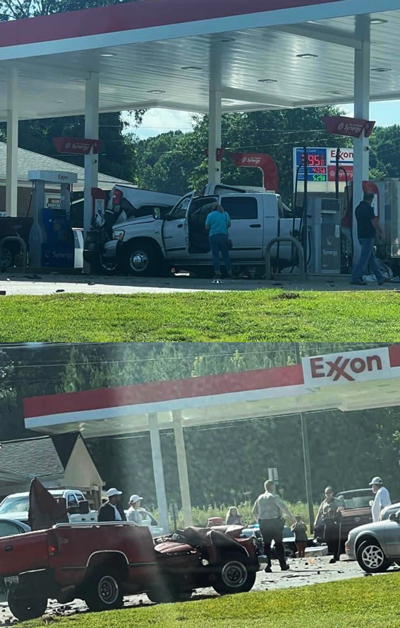 Update 07/03/22 @ 8:20 PM
Paulding Detectives and Troopers with the Georgia State Patrol have been working diligently to complete their investigation into the incident that occurred earlier today at Al's Exxon in the Rose's Store/Union Community of western Paulding County. The family members of the driver of the white GMC Sierra have been notified of the incident. The driver has been identified as Christopher David Coleman (W/M, 30 YOA) who is a resident of Paulding County. Medical professionals informed Detectives that Mr. Coleman passed away at Wellstar Kennestone Hospital earlier today as a result of the self-inflicted gunshot wound he sustained. At this point, we do not have any updates on the condition of the bystanders who were injured in the incident.
Paulding Deputies responded to Al's Exxon in the Rose's Store/Yorkville Community of western Paulding County referencing a multi-vehicle accident and a possible shooting earlier today. At 10:01 AM on Sunday, July 3, 2022, a white GMC Sierra crew cab truck was traveling southbound on GA 101 toward the GA 120/GA 101 intersection when it appears as if the vehicle was purposefully driven off of the roadway through the sign of Al's Exxon which is located at 30 Highway 101 North Dallas, GA 30132. Once the vehicle traveled through the sign, it struck multiple vehicles in the parking lot of the store including the gas pumps.
When bystanders went to the truck to check on the status of the driver, the male driver brandished a handgun and according to witnesses, shot himself in the head. When responders arrived on the scene, the male patient was immediately treated and subsequently transported to an Atlanta area hospital where he is in critical condition.
Due to the family not being notified yet, the name of the driver of the white GMC Sierra will not be released. It must be noted that the Georgia State Patrol is investigating the motor vehicle accident portion of this incident and the Paulding County Sheriff's Office is investigating the suicide portion of this incident.
There were multiple people at the gas station at the time of this incident and several of them were injured. As of now, none of the injuries to the bystanders appear to be life-threatening. If you have any information about this incident, please send us a message via the Paulding Sheriff mobile app or the Criminal Investigations Tip Line at (770) 443-3047. #PauldingSheriff #GeorgiaStatePatrol.