Local Realty Announces July 2022 "Hero of the Month" Award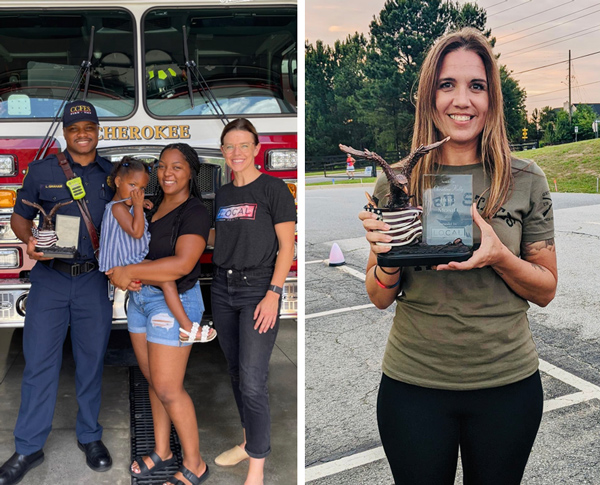 ATLANTA – July 27, 2022 – Local Realty, a Marietta-based real estate company featuring expertise in the local real estate market, today announced that Paulding County's Deputy Director, Christina Kelly, and Leighton Graham have been named the company's Hero of the Month for June and July, respectively. Each month, Local Realty honors someone who serves in the local community or has served our country, be it veterans, police officers, firefighters, EMTs, doctors, nurses, teachers, and more.
Kelly is currently the Deputy Director for Paulding County, Georgia, where she oversees the PC911 training and operations sections, quality assurance, and open records. She began her public service career in 2004 as a communications officer for Paulding County E911. She rose through the ranks fairly quickly over the years, serving as supervisor, training coordinator, and training manager, before taking her current role as Deputy Director.
Kelly also serves on numerous boards in the community, including the Paulding Public Safety Appreciation board, the Family Alliance of Paulding, and the Drug-Free Paulding board. association. Her personal motto is to continually improve everything around her that is possible.
"We are so grateful to Christina for her service and the time and dedication she has shown to our community and our local public service sector," said Jennifer Taylor, owner, and broker of Local Realty. "We hope this recognition will show her how truly grateful for her service with Paulding County, and the many additional local and community initiatives she supports by serving on their board. We are so excited to honor her as our Local Hero of the Month."
Leighton Graham was born and raised in Georgia and worked as a fireman at Station 9 in Cherokee County. Graham became a firefighter in 2021 and loves the opportunity to serve his community in this capacity. He is also currently in paramedic school, further adding to his skill set. Graham is also a member of HEW Fitness, which nominated him for this award saying, "We are thankful for the service members and first responders and are honored to nominate one of our very own HEWman Heroes for this award."
"We are so very grateful for Leighton's dedication and service to keeping our local community safe," added Taylor. "We are mindful of these local first responders that put their lives in danger every day for our safety and we are thrilled to be able to honor Leighton as our July Hero Local Hero of the Month."
Featuring the newest broker model for real estate agents, Local Realty provides the best technology in the industry and world-class training for agents at all levels. Local Realty is also looking to hire local agents to join their growing team.
About Local Realty
Local Realty is a real estate company featuring expertise on the local real estate market. Featuring state-of-the-art technology, teamed with real estate agents with local expertise, Local Realty understands local real estate markets and communities better than its national counterparts. For more information, visit www.localrealtyga.com, or on Facebook at https://www.facebook.com/localrealtyga.