The People have spoken, the ballots have been counted and the results are in! Paulding Fine Arts is proud to announce the winner of the People's Choice Award for the 2015 Juried Art Show. Drum roll please! And the winner is... Wendy Herubin for her "Wings of Whimsy" - gourd-chicken circus display. This colorfully whimsical cast of chicken circus performers certainly won the hearts of our visitors during the Month of October. Thank you everyone who participated in the People's Choice voting and Congratulations Wendy!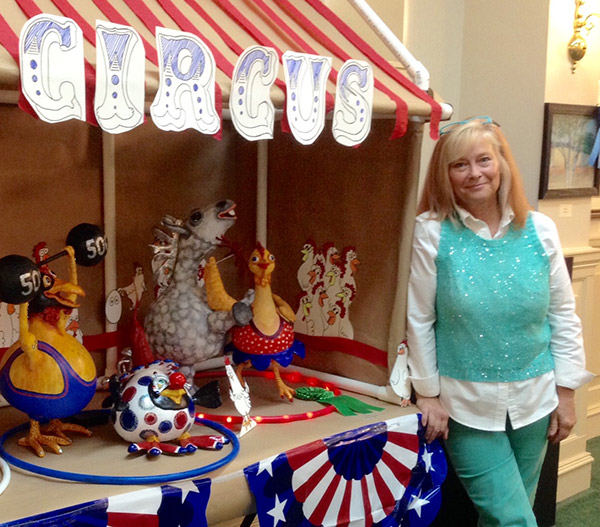 The Paulding Fine Arts Association meets the 4th Tuesday of each month at 7:00pm in the Courtroom Gallery located on the 2nd floor of the OLD Paulding County Courthouse at 11 Courthouse Square in Downtown Dallas GA. Our gallery & Studios are open tot he public on Thursday through Saturday, 10:00am to 4:00pm. Please come by, bring your family and friends. Arrange for a group tour - Girl and Boy Scouts, Art Students, Retirement and Senior Centers, Sunday School Classes, Civic Groups, etc. are encouraged to e-mail () or phone ahead (770-445-9008) to make arrangements for a guided tour. We have working artists studios, classroom, permanent art collection and a wonderful gift shop. We aren't trying to be, but we are Paulding County's BEST KEPT SECRET. Come see what talented artists your neighbors are, we promise you will be amazed. Let's get this secret revealed!
Pictured: Wendy Herubin and her "Wings of Whimsy" 2015 PFAA Juried Art Show People's Choice Award Winner.