The donation to Benefit For Brystol Haynes came about by a long time Creeper's Car Club member (Rick Myers- Center and holding the check) who was aware of the Brystol Haynes story. A motion was made and unanimously approved. Our funds are raised primarily from our Creeper's Car Club Fun Run Car Show held at Jim R. Miller Park in Cobb County. The 2016 - 26th Annual Creeper's Fun Run Car Show is June 11th at Jim R. Miller Park in Cobb County and starts at 9:00am.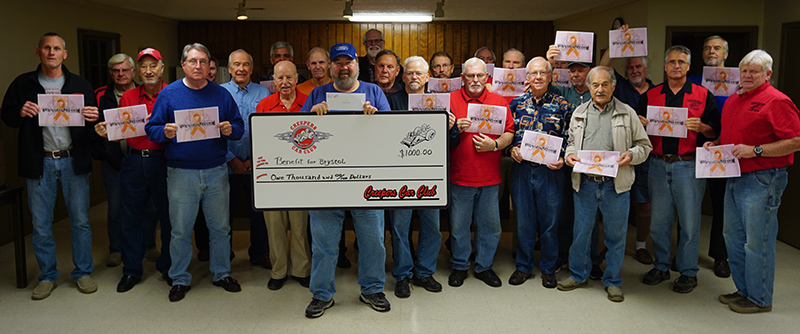 Club Information:
The Creeper's Car Club was formed in 1960 and is a non-profit organization consisting of guys and gals that have a common interest in street rods and enjoy the fellowship that surrounds all of those interested in the sport.
In 1984, the Creepers Car Club decided to place an extra focus on community involvement and helping local charities. It was at this time that the Creepers decided to sponsor an annual car show to both raise money for local charities, but also provide a family oriented event that we could share with other street rod enthusiasts.
As a result, the first "Creepers Fun Run" was held in 1985. Two hundred and forty three street rodders participated, and with the help of major sponsors, the first contribution was made to the Scottish Rite Hospital in the amount of $2,500.
Since that time, the event name has evolved to the "Creepers Car Show", and an event has been held nearly every year (a couple of years were missed in the early 2000's), with the 25th Annual Creepers Car Show being held in 2015.
The 2015 Creepers Car Show was the 25th annual car show sponsored by the Creepers Car Club. Contributions totaled $17,000 for the year 2015. Proceeds from the 2015 Creepers Car Show went to the Children's Miracle Network and the Special Olympics of Georgia - Cobb County in the amount of $8,500 to each.
As of the conclusion of the 25th Annual 2015 Creepers Car Show, distribution of the proceeds from the car shows has been as follows:
Scottish Rite Hospital $295,850
Rhubarb Jones' Leukemia Walk Across Georgia $46,350
Calvary Children's Home $18,300
American Cancer Society $12,750
Good Shepherd at Bartow $1,000
Local individuals in need $3,000
Children's Miracle Network $13,000
Special Olympics GA - Cobb $13,000
Total Donations $403,250
All members and spouses of the Creeper Car Club are proud of their contribution efforts to date, and with the help of future major sponsors and the local general public, plan to continue these efforts in the future.
The 2016 - 26th Annual Creeper's Fun Run Car Show is June 11th at Jim R. Miller Park in Cobb County and starts at 9:00am.
We appreciate you taking the time to work with us and help spread the word of Creeper's Fun Run 26 Car Show! Thank you,