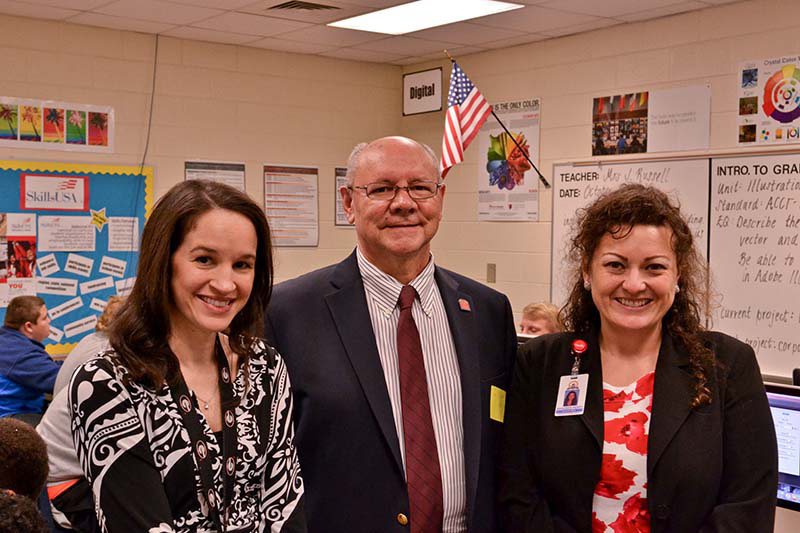 L to R Jaime Russell, Doug Thomas and Marores Perry
Print Ed classes afford provide much real-world experience in many career paths for digital media and print media careers. Unlike the formal name of the course, Print Ed classes offer as much in the digital realm as they do the world of printing. Everything from Graphics Art and Social Media integration to Computer Design are covered with the latest software and industry-standard hardware. Many careers and much needed information are supplied in these courses.
For the students of Paulding County, Print ED provides a career path and opportunity for entry into the workplace with verifiable credentials. Additionally students can further education with college credits already in hand. Print ED, is administered by the Graphic Arts Education and Research Foundation (GAERF), is a nationally accredited program, aligned with the industry standards, appropriate for secondary and post-secondary schools offering graphic communications curricula.
Print ED was developed in 1986 by the Printing Industries Association of Georgia (PIAG) at the request of the Georgia Department of Education to provide a set of skill standards for the states printing programs. In 1990, the Printing Industries of America adopted the Georgia program as a national industry-approved accreditation program. GAERF, headquartered in Reston, Virginia assumed management of print Ed in 2000.
East Paulding High School and Hiram High School already offer this fully accredited program. Additionally, Paulding County High School has this program up and running with their accreditation soon to be approved.