Chattahoochee Tech has adopted a Green Zones Program as a way to assist student veterans as they transition into the civilian workplace.
"The purpose of the Green Zone Program is to serve our veterans and veteran family members enrolled at Chattahoochee Technical College (CTC) as they have served and supported us in defending our country and our freedom," said CTC Communication and Veteran Services Coordinator Barry Munday. While the term Green Zone describes a safe and secure place, Munday said it's more about the people providing support to student veterans rather than a physical location. The college currently has 89 faculty and staff members among all eight campuses who have completed the training and are certified as Green Zone participants.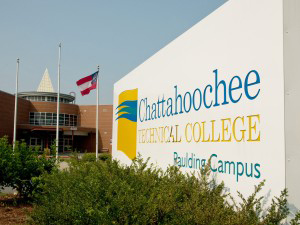 Patricia Ross, director of Military Affairs for the Technical College System of Georgia, was researching strong veteran support programs when she came upon Operation Green Zone at Fayetteville Technical Community College near Ft. Bragg, N.C. She evaluated the program and its practical applications for technical colleges in Georgia. Now all TCSG campuses have Green Zones. "As more veterans look to colleges for education and training required to transition to the civilian workplace, it's important for staff and faculty to understand military culture and some of the challenges in order to help student veterans succeed," Ross said.
Faculty and staff who are knowledgeable on the issues faced by student veterans and their families and the resources available to assist them are identified by a Green Zone emblem outside of their office door and/or on their syllabus. As an ongoing trend on college campuses, there have been Green Zones popping up at colleges across Georgia and the U.S.
Green Zone participants can offer comforting reassurance and help individuals identify and connect with the appropriate resources.
"The transition from the military to the academic community can be overwhelming for these soldiers, sailors, marines and airmen as well as their families. Our increased awareness of their needs allows us to better provide support and assistance as they begin or continue their journey in college in pursuit of their personal goals and objectives," Munday said. "Often a listening ear can make a tremendous difference."
CTC is the largest technical college in the state with eight campus locations serving the counties of Bartow, Cherokee, Cobb, Gilmer, Paulding, and Pickens. CTC awards more than 70 certificates, diplomas and associate degrees in 45 programs of study through traditional classroom courses as well as online training.
The college also provides the community with other learning opportunities, including customized workforce training, adult literacy and continuing education programs. For more information, visit www.ChattahoocheeTech.edu or call 770-528-4545.