Carroll Electric Membership Cooperative recently received the award for no lost-time accidents, presented by Georgia Electric Membership Corporation. The award was presented to Carroll EMC Monday, Nov. 9 during the GEMC annual meeting held in Savannah, GA and recognized the local cooperative for five consecutive years of safety without a lost-time accident, an unprecedented feat.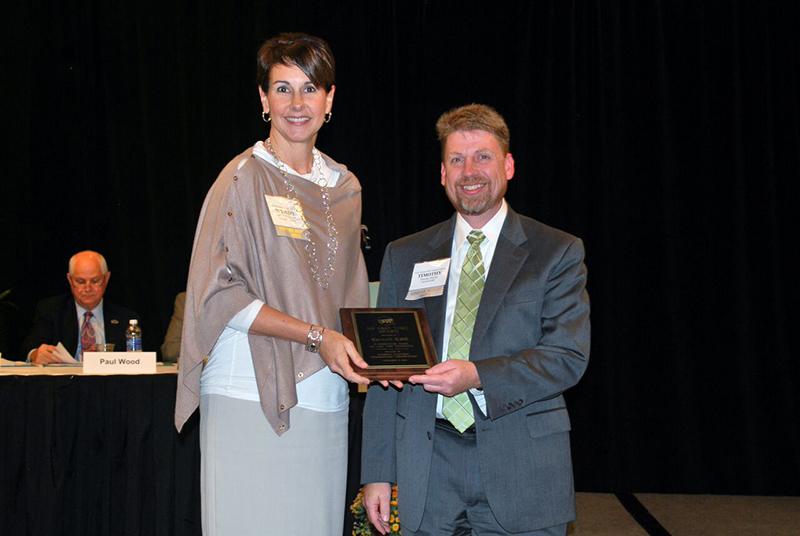 "There are many hazards associated with electric utility work, and we dedicate significant resources to training, awareness, and equipment to keep our employees safe," says Tim Martin with Carroll EMC. "It's rewarding to see the results, not just in the form of the 'No Lost-Time' Award, but also in a more productive workforce, lower worker's compensation costs, and savings for our members. And, while this is all very important, the thing I am most proud of is that since we started our 1.5 million hour journey, our employees were able to go home, without a major injury, to their families and friends each and every one of those days."
The no lost-time award recognizes an EMC for outstanding achievements in workplace safety and employees avoiding workplace injury requiring lost time from work. The award is categorized annually and currently ranges from 1 to 9 consecutive years without an incident. The award has been presented at Georgia EMC's annual meeting since 2009. "Our Members are people that we went to school with, worked with at other jobs, family either by blood or marriage, and church friends. So when something happens, it is not just the employees that are affected," said Chet Steele, Safety and Training Director of Carroll EMC. "I am not concerned about how many plaques we obtain; just knowing that everybody goes home safely is my main goal."
In September 2015, Carroll EMC reached a safety milestone of 1.5 million man-hours with no lost–time accidents. This achievement comes less than two years after reaching 1 million man-hours with no lost–time accidents in January 2014. Carroll EMC is a Member-owned cooperative providing electricity to approximately 50,000 homes and businesses. The co-op serves Members in Carroll, Haralson, Heard, Paulding, Polk and Troup counties. For more information visit the cooperative's website at carrollemc.com or follow Carroll EMC on Facebook, Twitter, YouTube, Pinterest, Instagram and LinkedIn.
Washington EMC President/CEO, Wendy Sellers, presents Carroll EMC President/CEO, Tim Martin, with the no-lost time award.