Paulding Chamber of Commerce hosted InterVISTAS Senior VP Steve Martin at last week's Chamber luncheon. Martin began by making it clear he was not the well-known comedian of the same name. And as part of his presentation, Martin did not play a banjo or wear an Indian arrow on his head, nor did he make any 'wild and crazy' forecasts for Paulding's future at Silver Comet Field, but he did offer some results of a study his firm recently conducted for the Paulding Chamber regarding potential economic impact locally, and to the region were Paulding's airport to begin offering commercial flights.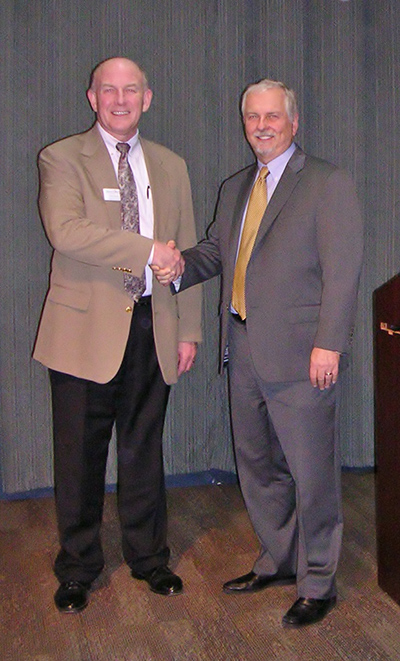 Martin emphasized that the estimates disclosed in the InnerVistas study were considered on the conservative side and he added that the estimates could be considerately higher. Martin said the study looked at several areas that comprise economic impact tied to commercial flights. "...It's measured by jobs, earnings, gross domestic product or economic output."
For the purposes of the InterVistas study, Paulding's airport was compared to St. Cloud Regional Airport near Minneapolis, Minn., Concord Regional Airport near Charlotte, and Rickenbacker Airport, outside of Columbus Ohio, Martin told Paulding business leaders. Commercial airline service at Paulding's airport may create the equivalent of 55 full-time jobs earning a total of $2.7 million in the first year, according to the new study. The study stated the annual combined economic impact of airport and tourism spending would generate 119 full-time jobs with earnings of $5.3 million and a total economic output of $12.8 million after the first year of commercial air service, based on Allegiant Airlines conducting two-to-four flights per week at the airport in the first year.
The study assumed Allegiant would provide six flights per week to three Florida destinations, based on what the airline had done at three other regional airports near major airports in other areas of the U.S. It typically uses 177-seat Airbus A320 jets, he said. Martin said that the study assumed that Allegiant would start with its first market and then expand to two or possibly three markets. Allegiant is among "low cost" carriers that can force larger carriers to be more competitive and help to drive fares down, Martin said. Allegiant Air informed Paulding airport officials in 2013 the airline intended to provide passenger service after the Federal Aviation Administration gives the airport certification for commercial flights. Silver Comet is currently only approved for general aviation uses.
Commercial service would directly create the equivalent of 38 full-time jobs in the Paulding County area with wages estimated at $1.5 million annually, the study said. But passenger flights also potentially will increase the sales of businesses that supply goods and services to the airport, and airport employees will spend their wages in the community. That could create additional jobs and wages, bringing the total economic effect to 55 jobs and $2.7 million in wages, the study said.
Additionally, InterVistas' study estimated about 10 percent of the passengers who arrive in Paulding will be visitors to the area. In addition to other economic impacts, visitors arriving on the flights will "generate economic activity by spending money on hotels, rental cars, food and beverage, entertainment, etc.," Martin said.
Martin said that potentially the airport's increased activity will diversify Paulding's economic base, increase economic activity and bring people in, he said. The Paulding Chamber of Commerce funded the study by Washington, D.C.-based InterVistas Consulting, a global company with extensive experience in the aviation, transportation and tourism industries to measure the economic impact of proposed commercial passenger service at Silver Comet Field airport near Dallas. The Paulding study was posted recently on the Paulding Chamber of Commerce's website.