Georgia Highlands College's student organization Brother 2 Brother saw an overwhelming need this year to help the Paulding County Department of Family and Children Services give foster kids in the area gifts for the holidays.
When the B2B student group found out there were over 170 Paulding County foster children, they stepped up to sponsor and manage a Secret Santa program. Over 200 toys were collected for distribution.
The B2B team was led by B2B President Wesly Lahens, B2B Event Coordinator Marquis Nixon, and GHC Administrative Assistant Angela Spano. The group collaborated with the GHC Paulding faculty, staff, students, and Vicki Randall, the Founder and CEO of Open Hearts to All Non-profit Organization.
According to Nixon, the goal was simple. "We are very active in the community and with working with children," he said. "Ms. Spano gave us the opportunity to lead the drive. She has a great deal of confidence in our organization and supported us every day of the toy drive. When she told us how many children we will be reaching, we did not want to let her or the children down. We know that they may not know us, but we are here to do whatever we can to help."
Lahens added that the toy drive was a huge success. "We have a family environment at GHC," he said. "When there is a need, we rally and do our best to support the community."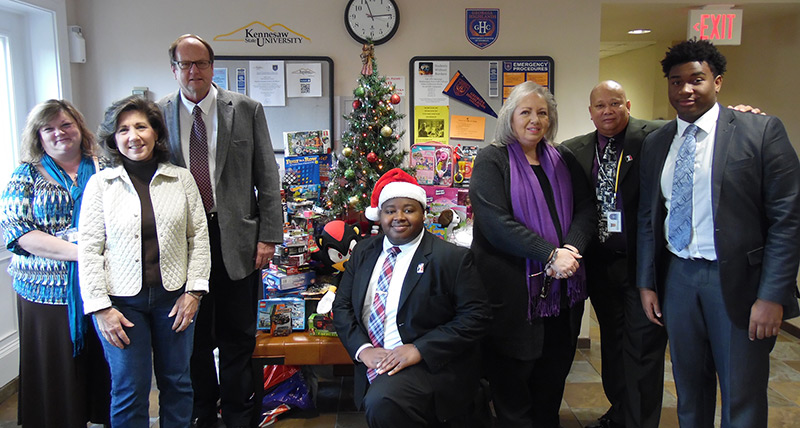 PHOTO: Pictured from left to right: Paulding County Department of Family and Children Services Angie Chandler and Lauren Casey; Georgia Highlands African American Minority Male Excellence and B2B Program Director, Dr. Jon Hershey; B2B Event Coordinator, Marquis Nixon; GHC Paulding Campus Administrative Assistant Angela Spano; KSU Paulding Program Manager for Recruiting and B2B Paulding Advisor Dalton Lemelle, Jr.; Brother 2 Brother Paulding Campus President Wesly Lahens.