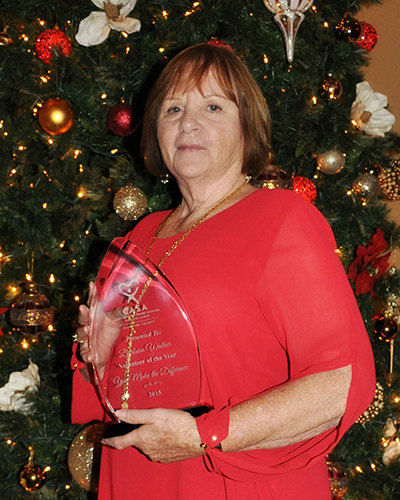 Barbara Walker received the Volunteer of the Year award. She has been a volunteer with the CASA program since March 2004. Bernard Marker received the Shining Star award for his outstanding service as a new volunteer. (Photos: submitted/CASA Paulding)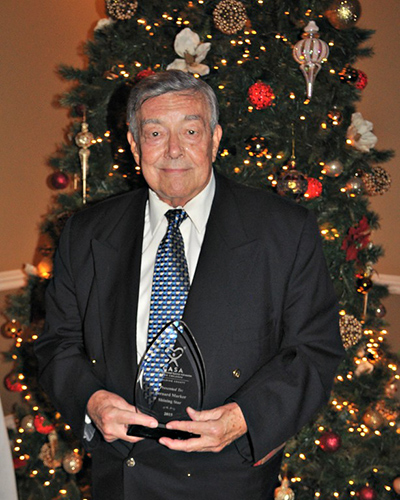 Paulding Board of Directors and staff of Court Appointed Special Advocates (CASA) hosted their yearly award ceremony on December 6, to recognize CASA volunteers that advocated for more than 250 abused and neglected children of Paulding County during 2015.
CASA volunteers, family and friends gathered at Brookstone Country Club to honor the volunteer's achievements and to present Barbara Walker the Volunteer of the Year award.
Ms. Walker has been a volunteer with the CASA program since March 2004. She has advocated for 17 children and currently serves 3 children. The majority of her advocacy has been for children with severe sexual, emotional, substance abuse and mental health issues.
As a CASA volunteer, she helps to strengthen the community by helping to make better the lives of abused and neglected children who are caught up in the juvenile court system through no fault of their own. "Children need a voice when abused. I feel I can help any child, and regardless of how significant the problem(s) may be, I've made a difference for someone," she said.
Walker also takes time to participate in most of her assigned children's interests such as attending school performances, graduations and award ceremonies. She actively serves the community by collecting clothes and other items for those in need, including prom and graduation attire for children in care.
Also, volunteer Bernard Marker received the Shining Star award for his outstanding service as a new volunteer. During his one year tenure he has already represented eight children. One family represented included five children who were not all placed together. He faithfully visited each child monthly and once reunification was imminent, he worked closely with the parents to assure the safety and well-being of the children.
Over 60 CASA volunteers were recognized during the event's proceedings. Special recognitions were presented to Joe Justice for his dedication while working for the Juvenile Court as Special Assistant Attorney General and to Christie Burke who is a case worker at the Department of Family and Children Services for her excellent collaboration with CASA volunteers. CASA volunteers are dedicated trained community members who are advocating for foster children in the county's juvenile dependency court system. As officers of the court, they ensure that the children's needs are recognized and best interests are considered both in the courtroom and in the community.
To learn more about becoming a CASA volunteer and the rewards that come along with serving as the voice of a child, please contact Maria T. Rodriguez-Curtis, recruitment and training coordinator at 770-505-0065. The next advocate training session for CASA Paulding begins on February 22, 2016. The CASA Paulding Program is a member of the National CASA Association, a network of more than 900 CASA programs serving children in 49 states and Washington DC.