Chattahoochee Tech decided to officially launch their new program with a welding torch and metal ribbon instead of the usual jumbo paper ribbon and scissors. But then the new program is the newly renovated welding lab at the Paulding County Campus of Chattahoochee Technical College.
Chattahoochee Technical College President Dr. Ron Newcomb was joined last week by faculty and staff members, community and industry leaders, as well as the Paulding Chamber of Commerce representatives to officially cut the ribbon on the facility.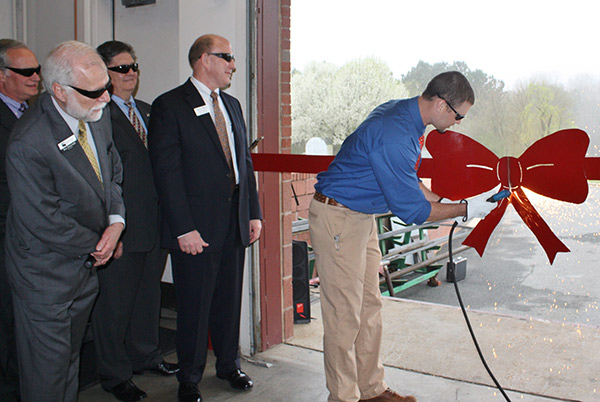 The Welding and Joining Technology Program, which was only offered at the Appalachian Campus in Jasper, began classes at the Paulding Campus in January. This expansion is intended to provide students with better access to a mainstay program, and the college has essentially doubled the number of students who can enroll in this program.
Heading up the program at the Paulding Campus is the son of a man who owned his own welding business. Jordan Hunter has grown up in the industry and began working as a maintenance welder at the age of 18.
"I did maintenance welding for a little over seven years, production welding for a year, and machining for three years," said Hunter. "I've had the opportunity to work in several different environments with different types of metal and materials."
In addition to classroom training, major emphasis is placed on the development of welding skills through actual hands-on practice. A full-time student who maintains satisfactory progress can complete the Welding diploma in four semesters.
"I have learned different types of processes and preformed various types of welds that helped develop my skill-set and knowledge in the field. Hands-on learning has been very beneficial to me and that's how I plan to help others," Hunter said.
The first semester for the program has been successful, according to Chattahoochee Technical College Associate Dean of Technical Studies Shane Evans. With the renovated 2,100 square foot space, there has been a more than a 40 percent increase in the program's enrollment.
"Welding continues to be one of the top programs in terms of career opportunities," said Evans. "In looking at the needs of employers and those of our students, this expansion makes sense and continues in fulfilling the mission of the college by developing a highly skilled workforce."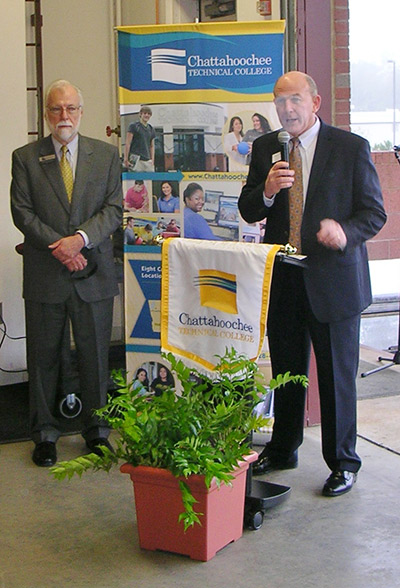 Additionally, the demand for welders continues to grow. "Including students taking other classes we have 87 students in the program, which is totally unprecedented," according to Trina Boteler, Chattahoochee Tech executive vice president, who commented following last week's event.
In 2010 The American Welding Society predicted the demand for skilled welders in the U.S. alone could outpace supply by 200,000 individuals, and that that trend would grow by about 20 percent over the next few years. According to Hunter, this means Chattahoochee Tech students are entering a dynamic industry with more than 50 percent of the country's products requiring welding.
"The campus is in the hub of several counties that have limitless job opportunities for certified welders," said Hunter. Adding to the pool of potential employers locally is the burgeoning film industry over the last year. And looking to further plow that field the school will add another movie- industry related program, Ms. Boteler said.
"I attended a state meeting of all the state's film industry people...and graphic design people were saying they wanted to hire locally, so that's what we wanted to work toward producing," she said.
Boteler said the emphasis was always on career potential attached to the job and a support service that is usually contracted out locally by production companies. "We'll be starting web animation, but it's specifically in support of the movie industry," she said. "I focused on a job that somebody's going to have that they'll keep in the state of Georgia fulltime," Boteler said.
"Another thing we're going to do this fall is move our Registered Nursing program from the Austell campus to Paulding. Boteler explained that the program has grown, and it was decided to bring it to Dallas.
"The college has over 3,000 students. The vast majority want to go into nursing. But there are 50 slots available, so that means there's a competitive admissions; they have to jump through all the hoops.... We're also going to bring something called a Bridge program here, which will allow folks who are Licensed Practical Nurses to come here and bridge into an RN program, Boteler said. "So we will have three premier programs on this campus this fall nobody else has."
Welding and Joining Technology is one of several programs at Chattahoochee Tech eligible for the new Strategic Industries Workforce Development Grant. If they qualify students eligible for the HOPE Grant can receive between $125 and $500 of additional grant money each semester.