Paulding's Board of Commissioners approved a Bid Award last week during their final March session, for the Department of Driver Services Facility site work, which will begin in about a month.
Site prep work goes to Lewis Contracting Services, LLC, in the amount of $735,873.30. Construction of the facility will take up the rest of this year. By next year Paulding motorists can look forward to being able to obtain or renew their driver's licenses locally.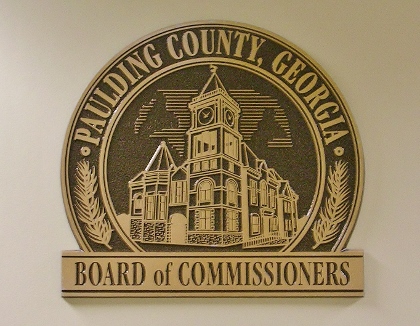 Since last year the Georgia Department of Driver Services (DDS) has had a plan for a 10,000-square-foot driver services "super center" adjacent to Paulding County's Watson government complex in Dallas. And toward accomplishing that goal the county will prepare the two-acre site, which is adjacent to the northwest corner of the complex. It will also build parking area for the center and construct an access road from the site north to West Memorial Drive near the former WellStar Paulding Hospital building, officials said.
Site work begins in about a month, according to County Engineer Bruce Coyle, who added that the county must complete its preparation of the site before the state can begin their work. "We'll have a notice to proceed in about a month...and can get back together and have a ground breaking," he told Board members last week. According to DDS spokeswoman Susan Sports, completion is targeted for early 2016 and the construction is expected to take about eight months after contracts are finalized because new driver's centers typically use the same design. "We've got it pretty much down to a science," Sports said.
The department regularly evaluates potential locations for service locations based on such factors as population growth and distance between current locationsts said. "We don't like for [residents] to travel more than 30 minutes to get to a service center," she said. According to Sports the center is planned to include 20 service counters, 10 computer stations and waiting areas inside the building and a road test course outside for new drivers. A driver center typically handles about 5,000 transactions per month, she said. County Commission Chairman David Austin said Paulding is the most populous county in the state without such a center. The closest locations now are in Polk and west Cobb counties.
The department's facilities planning team "had Paulding on their radar" after seeing it on a list of the state's 15 fastest-growing counties in Georgia, Sports said and added that, driver's services officials approached county leaders in 2013 about the project.
Austin said county officials also are working to make commercial driver's licenses available at the new location for those who are seeking employment in the trucking industry. Chattahoochee Technical College recently began offering tuition funds, in addition to the HOPE grant, as an incentive to those entering such high-demand industries, he said. Sports said final plans will show if the site is large enough for a test course for commercial licenses.