On Day 37 of the legislative session, House Bill 1, or the Haleigh's Hope Act, cleared its final hurdle when the House voted to approve a Senate compromise that left the original bill mostly intact.
A medical marijuana bill faltered at the last minute during the 2014 legislative session, but with minimal tweaking from the Senate, the Bill passed by a vote of 160-1 as this year's session headed into its final days. Thus a long tough two-year process comes to an end and the legislation, now a done deal, heads to Gov. Nathan Deal's desk to sign into law following the rap-up of this year's legislative session.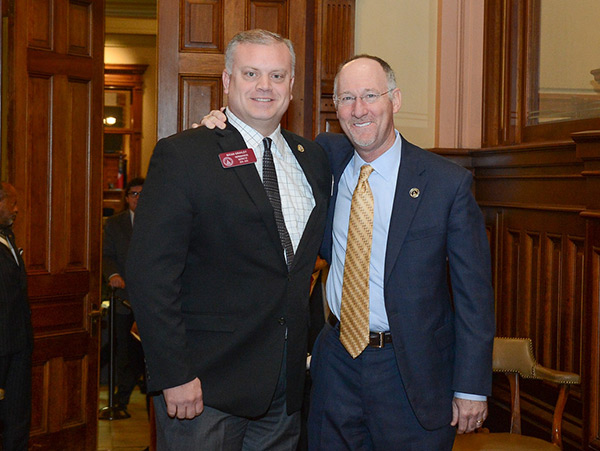 Senate changes amounted to the removal of only one of the nine conditions named for treatment with cannabis oil. Fibromyalgia was removed by Sen. Renee Unterman's Health and Human Services Committee from the list of qualifying conditions.
Eight qualifying conditions under HB 1 include Cancer, Multiple Sclerosis, Seizure disorders, Amyotrophic lateral sclerosis (ALS), Crohn's disease, Parkinson's disease, mitochondrial disease, and sickle cell disease. Sponsored by State Representative Allen Peake (R-Macon) and co-sponsored by Rep. Micah Gravley (R-Douglasville), the new law decriminalizes the possession of medical cannabis in Georgia.
Representative Gravley represents District 67, which includes portions of Douglas and Paulding counties appeared in the documentary film dealing with this topic "Growing Hope," which premiered last November in the Dallas Theatre. The film includes interviews from other legislators including Rep. Peake, Speaker David Ralston (R-Blue Ridge), Rep. Scott Turner (R-Holly Springs), and Sen. Butch Miller (R-Gainesville).
Said Speaker of the House David Ralston last week at a ceremony immediately following passage of the bill, "Some days make it all worthwhile." Once signed into law, Georgia becomes one of the 37 states plus Washington D.C. with some sort of medical marijuana law. According to Rep. Peake, 23 of those and Washington have liberal laws regarding the use of "home grown" marijuana extracts with no limits on the levels of THC. Additionally, Peake said, 12 states have laws that allow for medical marijuana use in treating epilepsy only and vary the limits on THC.
Georgia's new law is a hybrid and limits THC at 5 percent. Patients will be able to obtain up to 20 ounces under state supervision and doctors.
The bill also creates the Georgia Commission on Medical Cannabis which will be charged with making a recommendation for the potential regulatory infrastructure for creation of in-state growth/distribution model of medical cannabis. The commission must make its recommendation to the Governor and General Assembly by December 2015. Members of the commission will include the director of the Governor's Office for Children and Families, the director of the Georgia Bureau of Investigation, the director of the Georgia Drugs and Narcotics Agency, the commissioner of agriculture, the Governor's executive counsel, and members of the General Assembly, medical professionals, law enforcement officials, and pharmacists.