Patients are choosing WellStar Paulding Hospital. During its first year, WellStar expected to see 47,000 patients through the Emergency Department. The medical staff saw more than 70,000 patients—in line with the hospital's five year growth projection. This year, 30 percent of the patients chose a WellStar hospital for the first time.
"The increased traffic to our Paulding Hospital means that the Paulding community is taking advantage of our expanded services that only the new hospital can provide," said Mark Haney, president of WellStar Paulding Hospital. "We wanted to provide a world-class healthcare experience for all of our community and our world-class staff and facility are able to do that."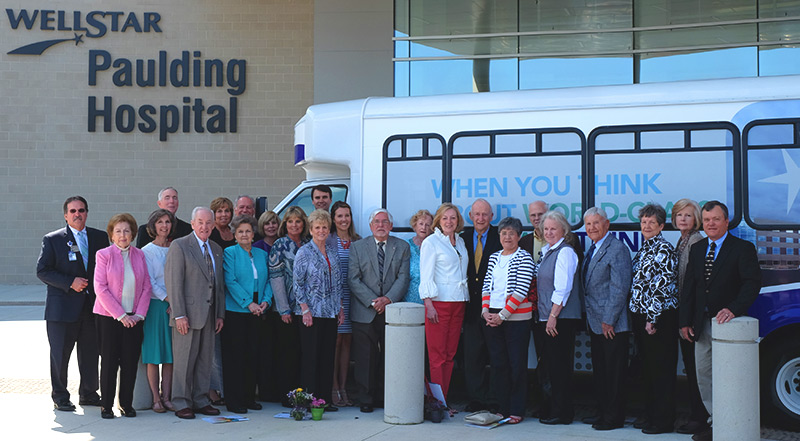 Since opening, Paulding Hospital has expanded services—with a hospitalist physician onsite 24 hours a day, as well as new imaging and radiation systems that significantly reduce testing times and patient discomfort. WellStar would not have been able to accomplish so much without the support of the Paulding community and donors to the WellStar Foundation. At a recent donor event to celebrate the first year of the hospital, John Covington, M.D. and his wife Glenda reflected on their 60 years in Paulding County.
"I'm still amazed every time I drive by the hospital," said Glenda Covington, who worked as an RN at the first Paulding Hospital. "We've been around since the original hospital opened. We are proud that we've been able to see this new hospital open." The Covingtons were the first major donors to the new WellStar Paulding Hospital. When the couple arrived in Paulding County, there were only 13,000 residents. Since then, the physician has seen the area grow and is proud of the level of care offered in Paulding.
"Even if you're sick, you feel better after walking in here," said Dr. Covington. "When the original Paulding Hospital opened it was state-of-the-art. Now, we again have an excellent environment to heal our patients."
WellStar Paulding Hospital will continue to grow to meet the needs of the community. The WellStar Foundation and its donors play a critical role in expanding services in Paulding County and ensuring that Paulding County has access to the best healthcare available. To support WellStar Paulding Hospital and the health of our community, please visit WellStar.org/give or call Gene Weeks at (470) 956-6676 or (770) 956-GIVE.
About WellStar Health System Recognized as the fifth most integrated healthcare delivery system in the country, WellStar Health System is the largest not-for-profit health system in Georgia and serves a population of more than 1.4 million residents in five counties. The vision of WellStar is to deliver world-class healthcare. A national leader in the transformation of healthcare delivery, WellStar launched the Center for Health Transformation and has partnered with the Georgia Tech Research Institute leading to far-reaching effects on healthcare both locally and nationally. WellStar includes WellStar Kennestone Regional Medical Center (anchored by WellStar Kennestone Hospital) and WellStar Cobb, Douglas, Paulding and Windy Hill hospitals; WellStar Medical Group; Urgent Care Centers; Health Parks; Pediatric Center; Health Place; Homecare; Hospice; Atherton Place; Paulding Nursing and Rehabilitation Center; and the WellStar Foundation. For more information, call 770-956-STAR or visit wellstar.org.