Council members gathered with project partners and others on the southwest side of the railroad tracks running through the city's historical downtown area.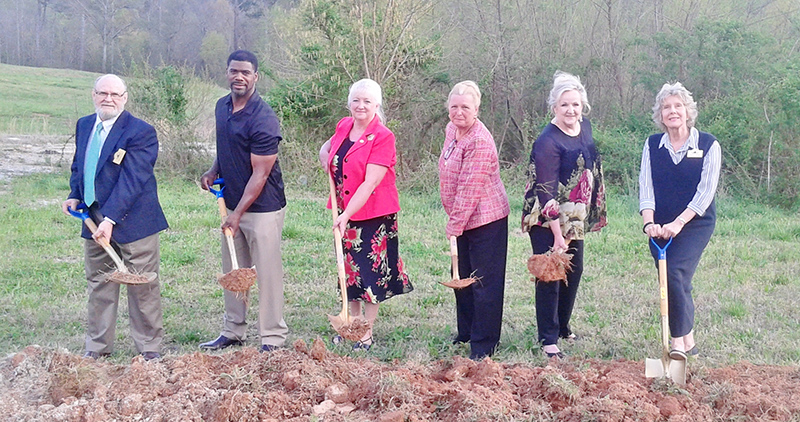 (Left to Right) Hiram City Council members Pep Rollins, Derrick Battle, Mayor Pro Tem Kathy Bookout, Mayor Doris Devey, Council members Teresa Philyaw and Kathy Carter launch downtown project in Hiram last week.
In March the council voted to award the contract for the Downtown Sewer Service Area, Hiram Lift Station project to North Georgia Pipeline, Inc., at a cost not to exceed $1,377,977.75 and also to award the contract for the Hiram Central Wastewater Pipeline project to Haren Construction, in an amount not to exceed $911,706.60.
The total costs to make sewer available is $2,289,684.35 not including the previously approved engineering design and construction management costs.
"This portion is the 'nuts and bolts' of the project that actually connects the lines to the Paulding County sewer outfall located in the back side of Mallard Glen subdivision off Arnold Lane," City Manager Robbie Rokovitz said, in reference to an area on the city's east side.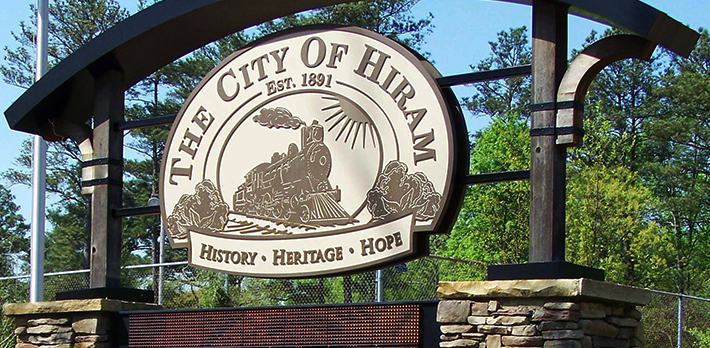 Hiram's City Council officially took up the issue of providing sewer to the downtown area 13 months ago. "...While there has been much discussion on the details and funding over the last two years, the reality of having sewer and the renewed potential for true economic development that will increase sales tax dollars has now been solidified...," Rokovitz commented following the council's approval of construction bids.
City officials contend that the project, which is being funded by city reserves, is needed to encourage the establishment of such businesses as restaurants, which had found it difficult to secure needed health permits because of the lack of sewer service. "It [also] allows existing businesses to change the type of use while also opening up to developers as to what they put in," Rokovitz explained during a phone interview recently.
"As a longtime resident and former downtown business owner, I recognize the importance of providing the proper infrastructure to ensure the survivability of existing businesses and the recruitment of new businesses into our historical area...," said Mayor Pro Tem Kathy Bookout. Councilman Battle said, "Hiram is our home and we all take great pride in making this investment that will enrich our financial position and make our community a better place for those who come behind us."
According to information included in a press release issued by the city, the project is expected to be completed around the middle of October.