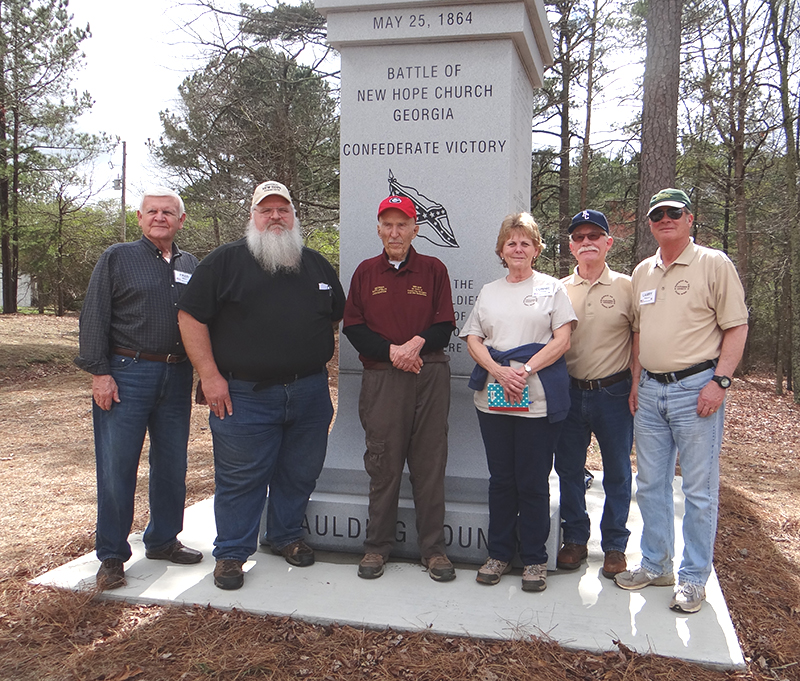 On March 14, the Georgia Battlefield Association brought a tour of 50 participants to visit Paulding County's Civil War battlefields of Pickett's Mill, Dallas, and New Hope Church. Leading the tour were Charlie Crawford, GBA President; Jim Odgen, Historian at Chicakamauga; and Ed Bearss, Chief Historian Emeritus of the National Park Service. Mr. Bearss, the 92-year-old, nationally-known, and beloved tour guide, leads dozens of battlefield trips each year, sharing his encyclopedia of knowledge and stories that always delight and inform his followers.
Members of the Friends of Civil War Paulding County welcomed the tour group at the site of the Battle of New Hope Church. Wayne Willingham, Paulding's Civil War historian, joined Ed Bearss in giving comment and answering questions. Tour members expressed much interest and excitement about the rich Civil War heritage in Paulding, asking many questions.
The FOCWPC members shown with Ed Bearss (center) in this photo taken at the Memorial to the Battle of New Hope Church, a monument established in 2014 to honor the memory of Union and Confederate units who fought there, include Fred Aiken, Wayne Willingham, Connie Tibbitts, Hugh Walters, and Larry Peterson of Evergreen, Colorado.