Lily Davis State Qualifier for 2020 National Geographic Geography Bee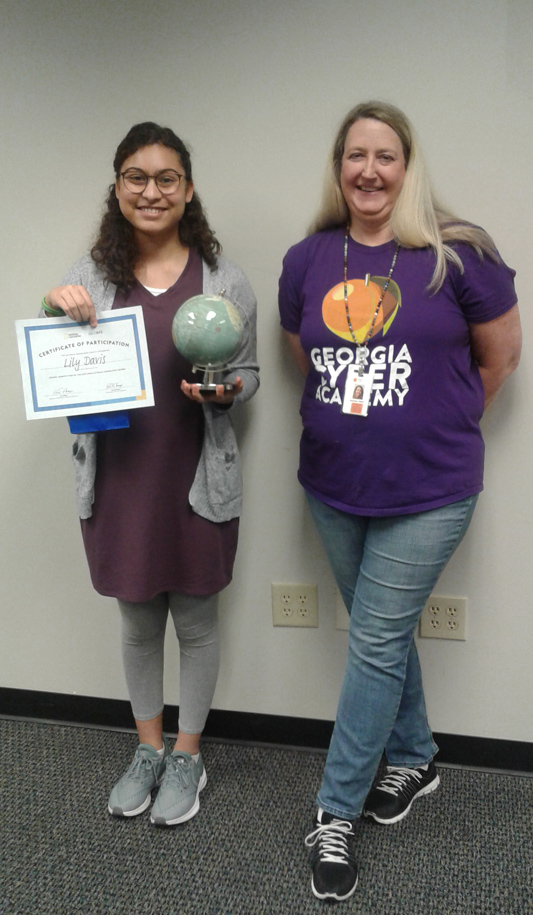 The National Geographic Society has held an annual Geography Bee for students in grades 4-8 for the past 31 yrs. (since 1989). Alex Trebek hosted the partially televised national level "Nat GeoBee" for 25 yrs., then Soledad O'Brien, and since 2016 the host has been Mo Rocca. Students compete first at the school/regional level, then each school's 1st place winner takes a 70 question state qualifying test. The students of the top 100 scores in the state then have the honor of competing at the state level to decide who would be the representative for their state to go to Washington, D.C. and compete at the National level. Lily Davis from Dallas, GA, a 7th grader at Georgia Cyber Academy, won 1st place for her school/regional level (ATL) and qualified for the state-level championship! The school held its in-person GeoBee in Atlanta at the end of February. Lily won 1st place after a difficult battle, round by round. After the school level GeoBee, she completed the state qualifying test. Early in March, she was informed that she was one of the top 100 scores in the state and would be competing in Milledgeville, GA at Georgia College for the state title and an opportunity to win a trip to Washington, D.C. and go for the National title of Nat GeoBee champion. Each of the 100 state qualifier's names is posted on the National Geographic website, is given a medal, and National Geographic gear. State winners receive monetary prizes, gear and a trip to Washington, D.C. and National winners receive scholarships, gear, and a monetary prize. For the first time in 31yrs., National Geographic had to make the difficult decision to cancel the State, National GeoBees, due to the coronavirus (COVID-19) pandemic. Lily is "bummed", but has a great attitude that, "I understand that we need to think about each other and not just ourselves, besides I get to do this again next year!". Thank you so much for your time and interest!
Picture shows Lily and her school National Geographic GeoBee coordinator Mrs. Veronica Alfieri.