Ribbon-cutting Officially Introduces Georgia Tag Kiosk at Dallas Commons Kroger
Paulding County has joined almost half the counties statewide in offering residents the opportunity to pay their tag registration through a Kiosk in a retail location.
Paulding County Tag office officials together with County officials held a ribbon-cutting in Dallas at the Dallas Commons store last week, though the Georgia Tag Kiosk has actually been at the site since August.
These days, it's all about convenience, and the County is stepping up with entities like Greystone Power and adding a Kiosk to enable citizens to pay their tag registration.
The Kiosk adds an option that may help some make their renewal deadline outside of usual business hours.
On hand for the ribbon-cutting Jeff Hielsberg, regional sales director, Intellectual Technology Inc. (ITI), pointed out that the Kiosk enables citizens who may be coming up on their renewal deadline to renew at the site during night and weekend store hours when the Department of Revenue would not be available to them.
Hielsberg said that some additional types of transactions for the Kiosk are in the discussion stages at this point.
According to an informational one-sheet provided by ITI, a tag renewal takes less than two minutes to scan, pay, print, and "walk away with decals." Kiosks offer voice assistance and touchscreen technology in both English and Spanish.
The Dallas Commons Kiosk joins over 70 others installed in retail stores and government buildings throughout the state.
And according to the ITI information, over "2,750,000 vehicle renewals have been processed at kiosks since the program start, with more than 963,000 vehicles renewed through November 2021."
Requirements to use the kiosk are that the vehicle must be registered in a participating county, the user must have a valid DL, and the address must be current on the renewal notice, the user must have proof of liability insurance on file and must have Vehicle Emission Inspection on file.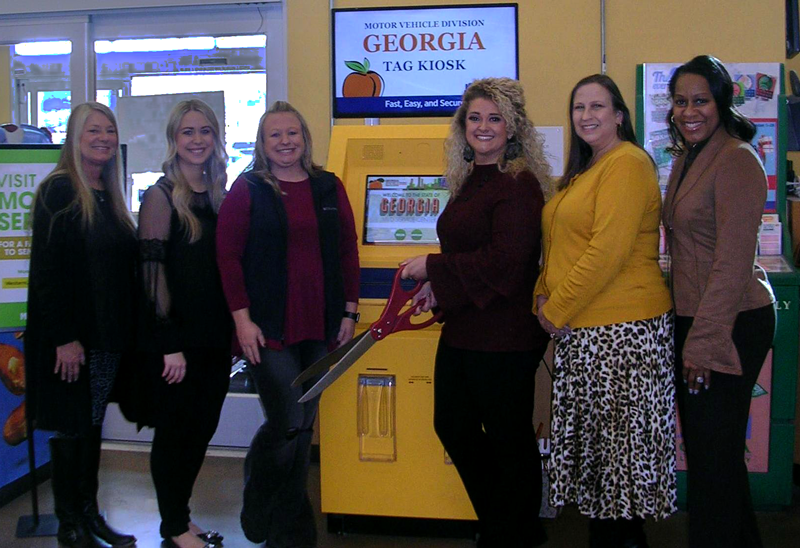 From the Paulding County Tax Commissioners office, (left to right) Mandi Brumelow, Allison Johnson, Lindsey McCullough, and Tax Commissioner Kaylo Amos. From the Board of Commissioners office, Rebecca Merideth and Angelia Farries. (Photo: R. Grant)