Dallas Public Library Opens Family Learning Center
The Dallas Public Library at 1010 E Memorial Dr. opened the Family Learning Center last week aimed at improving literacy in the early stages of a child's development.
The Center offers learning games, manipulatives, flashcards, and practice materials that support literacy. Caregivers are welcome to come in and use the resources in the room or they're welcome to check out two items at any given time.
"With opening this new center, we hope to provide our community with the resources they need to teach their child to read," said Dallas Library Manager Amy Mollenkamp.
According to a DPL informational brochure, the center "...began with the goal of providing families the opportunity to further their child's ability to read by having access to physical materials such as games, toys, and flashcards."
Thanks to getting Paulding Reading and The Georgia Department of Education's Literacy for Learning, Living, and Leading (L4GA) grant, the family learning center was fully funded. The goal of L4GA is to improve literacy outcomes for students from birth through grade 12. Begun in 2013 Get Georgia Reading is a collaboration of more than 100 public and private partners to address third-grade reading proficiency, not only as an education issue but as an urgent priority for all who care about children's health and well-being. According to the information posted on the Get Georgia Reading website at getgeorgiareading.org, "Two-thirds of Georgia's third-graders are not reading on grade level, bringing long-term negative consequences to these children, their families, their communities, and our state." "We hope that by adding new resources, games, and fun activities that parents can engage within their homes, that we will help to change those statistics," Mollenkamp said.
The Center is now open to the public on Monday-Thursday from 10 a.m. to 12 p.m. and 2 p.m. to 5 p.m. and Saturday from 9 a.m. to 5 p.m. Closed for public use on Friday and Saturday. Open for reservations by tutors, homeschoolers, and one-on-one studying Monday-Thursday 12 p.m. to 2 p.m. and 5 p.m. to 7 p.m. Friday 9 a.m. to 5 p.m. Closed for reservations Saturdays and Sundays.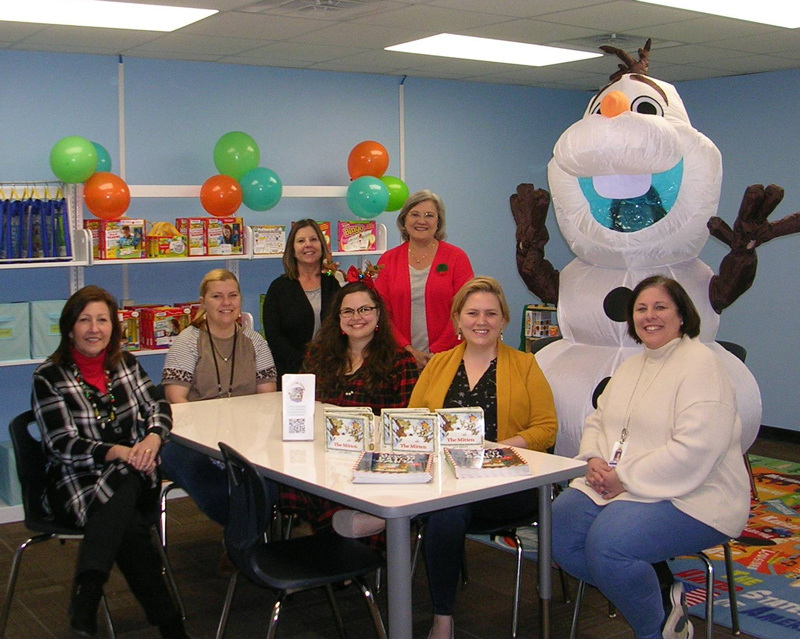 Left to right: Karen Woodlief, coordinator, Get Paulding Reading L4GA Community Partnerships, Kim Hannah, library assistant, Dallas Public Library, Marie Burrand, school improvement secretary, Katherine McDonald, children's specialist, Dallas Public Library, Sherry Hyde, clerk, L4GA, Amy Mollenkamp, manager, Dallas Public Library, Bonnie Gromley, children's specialist, Dallas Public Library - as �Olaf� and Kim Freedman, coordinator, ELA Curriculum (K-5)L4GA Grant. (Photo: R. Grant)