Chattahoochee Tech Foundation Presents Student Scholarships Valued at $109,000
(Acworth, Ga. – April 18, 2022) The Chattahoochee Tech Foundation presented 104 student scholarships with a total value of $109,000 at an awards event held Friday, April 15, at the college's North Metro Campus.
Scholarships awards ranged from $500 to $2,500 for these Chattahoochee Tech students, who represented a wide variety of programs at the college, according to Chattahoochee Tech Advancement Coordinator Amanda Henderson. "They will be able to make good use of these scholarship awards to advance their educational and career goals," said Henderson.
The scholarship winners competed against hundreds of student applicants throughout the college. The college's Board of Trustees scored the recipients, and then the top applicants were matched with the appropriate scholarship. In addition to meeting the special criteria for certain scholarships, applicants also must meet specific GPA requirements, demonstrate financial need, and be enrolled for a certain number of credit hours.
"We are very grateful for the generosity of our scholarship donors," said Chattahoochee Tech Vice President of Advancement Jennifer Nelson. "Thanks to their support, students have the funding they need to reach the goal of graduation and enter the community workforce."
A 501(c)(3) nonprofit organization, the Chattahoochee Tech Foundation supports the mission of Chattahoochee Technical College by making higher education an affordable reality for students.
For a complete list of the 2021-2022 scholarships and award recipients, go to: www.chattahoocheetech.edu/chattahoochee-tech-foundation-presents-student-scholarships-valued-at-109000/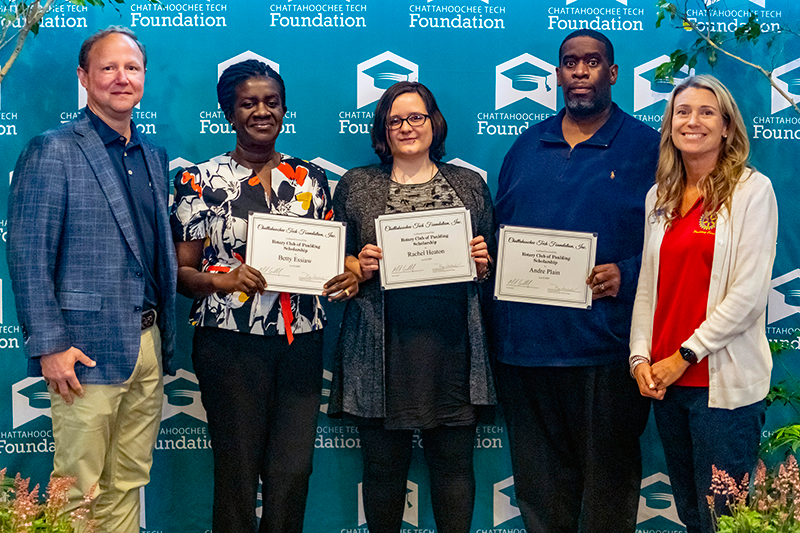 Photo: Chattahoochee Tech students receiving the Rotary Club of Paulding Scholarship included Betty Essiaw, Rachel Heaton, Andre Plain, and Andrew Walker. Shown here, l-r, are Chattahoochee Tech Foundation Board of Trustees member Ford Thigpen, scholarship recipients Betty Essiaw, Rachel Heaton, and Andre Plain, and Chattahoochee Tech Vice President Missy Cusack.
About Chattahoochee Technical College:
Chattahoochee Technical College awards certificates, diplomas, and associate degrees in programs of study for students to become highly skilled professionals in some of the nation's fastest-growing, high-demand career fields. A Unit of the Technical College System of Georgia (TCSG), Chattahoochee Tech is the largest technical college in the state with eight campus locations serving the counties of Bartow, Cherokee, Cobb, Gilmer, Paulding, and Pickens. The college also offers customized workforce training, continuing education classes, and adult education programs that include free GED and HiSET preparation. More information is available at www.ChattahoocheeTech.edu.