Paulding County 4-H'ers Compete at Area Poultry Judging Competition
On April 26, 2022, six Paulding County 4-H'ers traveled to Gordon County and competed in the Area Poultry Judging Competition. One hundred and three 4-H'ers across fourteen counties participated in the event. During the contest, participants judged both live specimens and market poultry, identified parts of birds already prepared for market, and evaluated eggs as to their quality and readiness for market.
The Area Poultry Judging Competition was broken down into two groups; Juniors and Seniors. Juniors range from 4th-8th grade and Seniors range from 9th-12th grade. The Juniors that represented Paulding County were Grayson Albers, Rylin Decker, Audibelle Eller, and Grace Prince. The Seniors were Savannah Blalock and Katee Taylor. The following four members of the Poultry Judging team were trained and prepared but were unable to attend: Allen Jones, Anna Jones, Samuel Martinez, and Jackson Parmley.
One Paulding County 4-H'er was recognized individually for her achievement at the event. Grace Price competed in the Junior Category against 65 other Juniors and placed 6th. The Junior Team was also recognized for their achievement. The Junior Team competed against 11 other teams and placed 5th in the Team Category. It was a challenging contest and each member of the Poultry Judging Team competed hard and proudly represented Paulding County.
A big thank you goes out to our dedicated and hard-working coaches: Kathleen Gilroy and Jamie Swinson.
Please visit www.ugaextension.org/paulding or contact us at the Paulding County UGA Extension office at 770-443-7616 to learn more about Paulding County 4-H.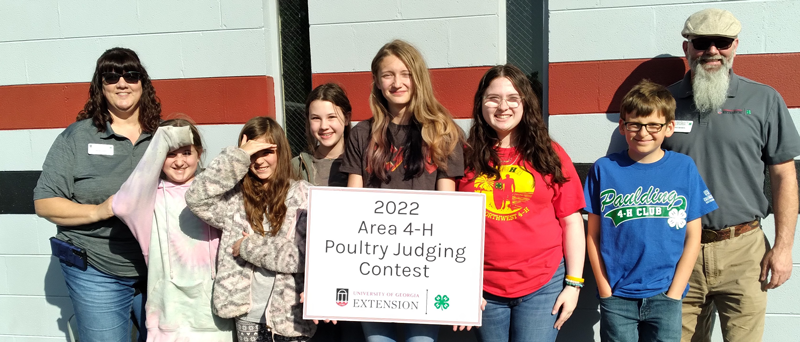 Pictured left to right: Kathleen Gilroy, Rylin Decker, Grace Prince, Audibelle Eller, Katee Taylor, Savannah Blalock, Grayson Albers, and Jamie Swinson.