State Delegate Micah Gravley co-chairs a relationship-building trip to Israel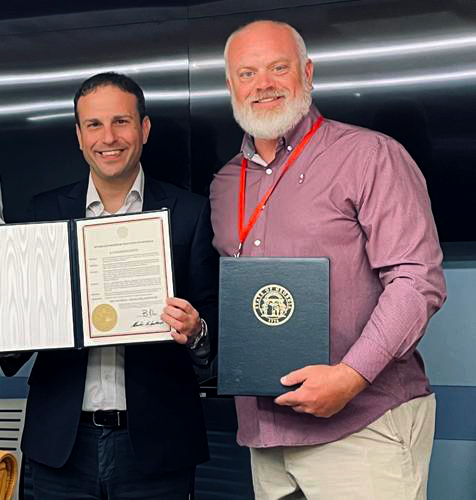 State Rep. Micah Gravley R-Douglasville along with Rep. Mitch Kay and State Sen. Kay Kirkpatrick of East Cobb are part of a bipartisan legislative delegation from Georgia that just returned from an August trip to Israel.
Gravley, as co-chairman of the Georgia-Israel caucus, made the trip with the goal of strengthening the relationship between Georgia and Israel.
Members of the Georgia-Israel Legislative Caucus arrived in Tel Aviv and met with members of the Israeli Knesset, as well as representatives from the country's military, diplomatic, business and legal communities.
Gravley, contacted recently by phone, explained how the August visit had been germinating over an extended period of time.
"Back in 2017 I carried two resolutions. One was urging the Israeli government to continue to keep the council general of the state of Israel in Atlanta. The Israeli consulate in Atlanta services the southeast; we're happy to have them in Atlanta. And I did another commending President Trump for doing what four presidents before him hadn't done. He got the embassy moved from Telavi to Jerusalem, which was a big accomplishment," Gravley said.
Gravley said the first resolution was done in anticipation of a move out of Atlanta being raised as an issue. "It was kind of preemptive on my part -- to go ahead and get something down before those discussions even happened," he said. Consul General of Israel Ambassador Judith Varnai Shorer was invited to the State Capitol as the guest of Speaker Ralston to speak before the entire House and receive the resolutions. Speaker Ralston co-sponsored the resolutions with Gravley.
Later that led to the meeting with Ambassador Shorer to discuss a request from Ichilov Hospital in Tel Aviv, Israel, to Gravley's campaign manager and former Paulding Commissioner Roger Leggett from a father in Israel, wanting to obtain one of the "Chad's Bracket" Radio Flyer Wagons for his young son who had been diagnosed with neuroblastoma, stage 4 cancer.
But the expense of sending the wagon to Israel was prohibitive and there was no guarantee the wagon would make it through customs to be delivered to the family.
Then days before the 2018 legislative session was to conclude, Ambassador Shorer invited Gravley and Leggett to meet with her and her staff. During the meeting, the ambassador told them that she would be sending the wagon with diplomatic importance directly to the hospital covering any costs associated with the delivery. On April, 18th, 2018, Gravley got word from the Israeli Consulate that the wagon had been received by the family. And that story was featured in the Dallas New Era.
After those events, Gravley was named as co-chair for the caucus and with Rep. Kaye on board, the trip was planned. Kaye was the first Jewish Republican elected to the Georgia legislature in the 1990s and earlier this year won a special election to fill the unexpired term of former State Rep. Matt Dollar through the end of the year. As co-chair Gravley worked with Kaye who helped to articulate the trip. "We got the trip together and went over with nine legislatures. We met with a member of the Knesset (Israeli Parliament), and members of the military, and we were able to present a commendation from Gov. Kemp." According to a release issued by the Georgia House of Representatives,
Gov. Brian Kemp issued a commendation recognizing the trip, noting that Georgia exported more than $280 million worth of goods to Israel and imported $652 million worth of goods from Israel in 2021. His commendation "also commended the launch of the Georgia-Israel Legislative Caucus, the expansion of direct flights between Atlanta and Tel Aviv starting next year, and the Georgia Israel Law Enforcement Exchange (GILEE) program with Israel," according to the release.
"We met with two people who work with economic development with the American Embassy; so it was a fantastic relationship-building opportunity for us, to go over and let them know we have 40-plus Israeli-based companies in Georgia, we probably have 100,000 members of the Jewish community living in metro Atlanta," Gravley said. "I had been before years ago and it looked like a different place, the development that has happened, and the archeological excavations that have started, even since I was there was just fascinating."
Gravley says that the next trip to pick up the threads from the first visit is already being discussed.
"So that we can continue relationships that we made, the thing is 'how can our two states work together?' there's a huge potential for building the relationship that exists already, and we have the consulate for the southeastern U.S. right here in Georgia," he said. "And Georgia has an economic development office in Israel, so this is a relationship we want to continue and they're one of our strongest allies in a place where there's a lot of conflicts," Gravley said.
Other legislators and their families making the trip included House members Debra Bazemore (D-South Fulton), Debbie Buckner (D-Junction City), Karen Bennett (D-Stone Mountain), Barry Fleming (R-Harlem), and Darlene Taylor (R-Thomasville).
Gravley, whose district includes portions of Douglas and Paulding counties, did not seek re-election and will retire from the Georgia House of Representatives at the end of this year to pursue other opportunities. Gravley's Dist. 67 was changed to Dist. 64 as a result of re-districting map changes.
Director Asaf Segev, U.S. Consulates Dept. North American Division, (left) holds commendation from Gov. Brian Kemp presented by Rep. Micah Gravley. Gravley also presented Segev with a copy of the 2017 resolution he carried in the General Assembly that urged the Israeli government to keep the council general of the state in Atlanta. (Photo(s): submitted/Gravley)