Firefighters Receive Commendations for Heroic Actions During House Fire
Dallas, Georgia, September 13, 2022. At 9:20 PM on Friday, June 24th, Paulding County 911 received a call from the home adjacent to 776 Woodwind Drive in the Yorkville community. According to the caller, 3 children who lived at home next door escaped by jumping from a second-story window, ran to his house, told him domestic violence was occurring at their home, that four other siblings were trapped, and that their mother had set the home on fire. Another caller reported hearing gunshots, and there was possibly still an armed suspect at the house.

Paulding County Engine 7, the first unit on the scene, arrived at 9:27 PM encountering flames on the second level. Frantic bystanders in the front yard told E7's crew that several children could still be trapped.
E7's crew immediately initiated interior search & rescue operations and began locating and removing pediatric patients to the front of the residence. Moments later additional Paulding Fire apparatus, Sheriff's Deputies, and Metro EMS arrived on the scene and joined the rescue, emergency medical treatment, and fire suppression operation.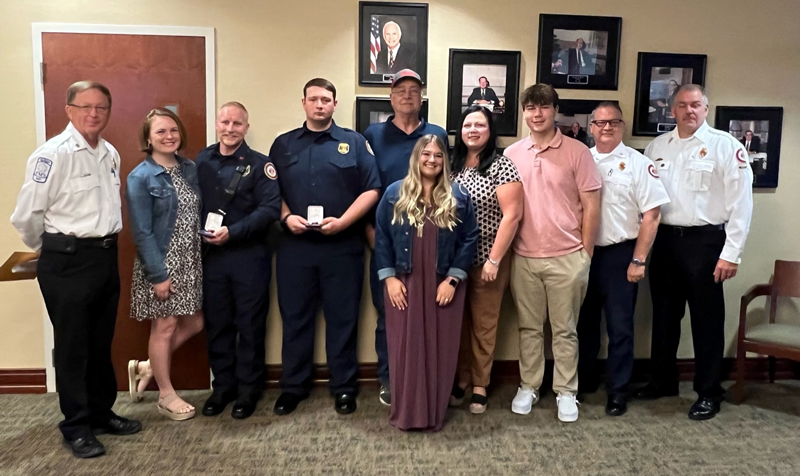 In all, four pediatric patients were rescued from the fire. Sadly, 2 were pronounced deceased in the front yard. A third child was transported by Metro EMS to Cobb Hospital and was later transferred to Grady's burn unit, where he died. However, despite the tragic loss of life, one of the four children rescued is alive today. Recently that child was transferred from Grady's burn unit to a rehabilitation facility, where he still undergoing care.
Because of the quick and heroic actions of E7's crew, and for only the second time in PCFD's history, FAO Jeremy Nall and FF Chris Ward were presented today with the Medal of Valor, PCFD's highest honor.
Chief Joey Pelfrey commented, "Thanks to amazing teamwork from several agencies, a child's life was saved. Paulding County Firefighters, Sheriff's Deputies, Communication Officers from the 911 Center, ambulance crews from Metro EMS, and Airlife Helicopter Service worked together in the midst of a very chaotic scene. Had E7 not made the decision to enter the burning house, despite the threat of an armed suspect, and without hesitation or regard for their own safety, that child would not be alive today. Thank you to every one of these professional women & men. I am very proud of the job they do every day to serve and protect our citizens."
"Their collective exemplary actions that night resulted in multiple victims being removed from a working house fire, under the most extraordinary and unusual circumstances. Their actions are in keeping with the highest standards of the Fire Service and to the service of the citizens of Paulding County," Pelfrey concluded.