S.H.A.R.E. House Named 2023 Chick-fil-A True Inspiration Awards Recipient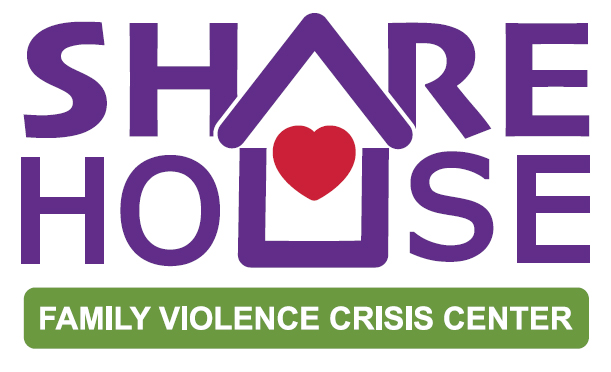 S.H.A.R.E. House, an area nonprofit, has been named the recipient of a $125,000 grant through the annual Chick-fil-A True Inspiration Awards program. S.H.A.R.E. House is one of 46 True Inspiration Awards grant recipients that are receiving a collective $5 million in grants.
S.H.A.R.E. House, based in Douglasville, opened a satellite office in Paulding County and added an attorney to its staff to provide legal representation for victims.
One of the nonprofits chosen in the inaugural "Caring for Communities" category, S.H.A.R.E. House is a certified family violence shelter that provides free confidential services to victims of domestic violence.
"S.H.A.R.E. House is excited to be selected to receive the True Inspiration Award grant by Chick-fil-A, Inc.," stated Executive Director, Teresa Smith in a press release. "This is such an honor that S.H.A.R.E. House is being recognized for its work with domestic violence victims and their families within the communities that we serve."
According to the press release The True Inspiration Awards were established in 2015 to carry on Chick-fil-A Founder S. Truett Cathy's legacy of generosity and community service. Since that time, 250 grants have been distributed to organizations located across 36 states, Washington, D.C., and Canada, impacting more than 3.5 million people. Individual grants range from $30,000 to $350,000. Smith, who was also contacted by phone for comment, said that S.H.A.R.E. House will use the grant funds to support the comprehensive services provided to victims, youth, and families, as well their housing program.
"I would also like to thank Jordan Phillips, Operator of Arbor Place Mall Chick-Fil-A for his ongoing support and his nomination that helped to make this event possible," Smith said.
According to press information, to be selected for a grant, "...organizations must work to address key issues that align with Chick-fil-A's corporate social responsibility priorities including Caring for People, Caring for Others through Food, Caring for our Communities and Caring for our Planet."
"Through our True Inspiration Awards grant program, Chick-fil-A helps empower local nonprofits that are leading positive change and creating tangible impact throughout the communities they serve," said Brent Fielder, senior director of corporate social responsibility for Chick-fil-A, Inc., quoted in the same press release.
S.H.A.R.E House emergency shelter has been providing a safe haven for victims and families for over 32 years. To meet the needs of older youth and Teens, S.H.A.R.E. House developed a specialized Teen Center to address the trauma that children/youth have experienced as a result of being exposed to violence in their home environment.
And according to the information posted at sharehouse.com, S.H.A.R.E. (Someone Helping Another through Resources and Education) House provides crisis intervention and the continuum of care to address the causes and effects of family violence.
The S.H.A.R.E. House Paulding County Outreach Office can be reached at 770-443-0200.
For those in need of shelter or who know someone who is, call 770- 949-0626. For more information about Share House, please contact Cathy Smith-Curry, Board of Directors Chair, and/or contact Executive Director, Teresa Smith at .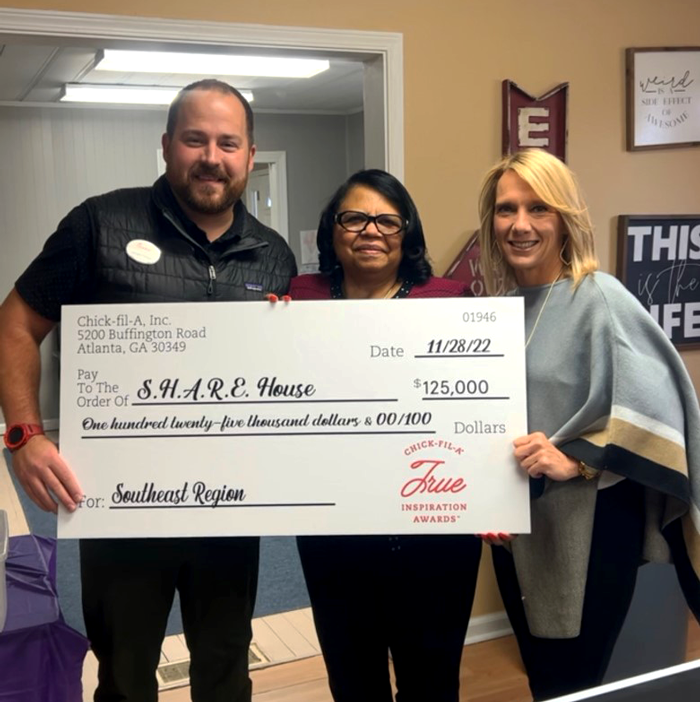 (Left to Right) Jordan Phillips, owner, Arbor Place Mall Chick-Fil-A, SHARE House Executive Director Teresa Smith, and Missy Little, SHARE House youth director.