Paulding commissioners updated on UGA Extension programs and current Ag profile
Paulding County's most recent agricultural profile among west metro counties has tended to fall somewhere in the middle of the spectrum between maintaining a balance of rural environment that provides productive farmland, while at the same time giving way to the surge of urban growth.
The 'urban growth' side of things is mostly to the east and the rural side to the west, according to Mary Carol Sheffield, county extension coordinator/agent for Agriculture and Natural Resources, UGA Extension-Paulding County.
Sheffield last week updated Paulding's BoC on the current Ag profile during their Work Session and following her presentation, responded by email to a request for additional comment.
"According to the last Census of Agriculture Data in 2017, the number of farms in Paulding County was 212, which was an increase of 49 farms from the previous Census in 2012. Additionally land in farm acreage increased from 2012 to 2017 by about 77% from 8368 acres to 14,831 acres. Many of those farmers report being 'new or beginning' farmers," Sheffield said. "And though I thought the size of farms might be smaller but farms themselves more numerous, the data from 2017 indicates that at that time farm sizes had increased, from an average of 59 acres to an average of 70 acres."
Sheffield says it will be interesting to see the USDA Census of Ag Data that's currently being collected. Farmers should be reporting now and data collection ends next month for the 2022 Census.
Paulding County's total Farm Gate Value from the most recent survey (2021) is $39,660,000. Top commodities are Greenhouse Nursery Production, Poultry, and Livestock, including cattle and horses.
Farm Gate value of a cultivated product in agriculture and aquaculture is the market value of a product minus the selling costs. That information is gathered by extension employees throughout the year and is shared with the Georgia Department of Agriculture.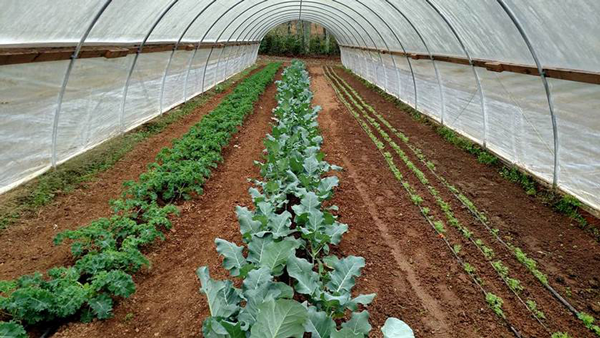 Sheffield says that farming locally is active and some newer residents want to make use of larger properties to try their hand at some form of limited farming.
"I get contacted by many folks who are new to Paulding and have moved from the more urban/suburban parts of Atlanta, in order to be able to have some land and undertake some farming endeavors. Usually, they have livestock or want to grow produce to take to market," she said.
Sheffield says they're offering a Journeyman Farmer Training Class this spring for folks interested in learning about small ruminant production (sheep and goats) and how to manage the farm business side of their agricultural endeavors.
Folks can learn how to register for it by visiting their website or contacting the office at www.ugaextension.org/paulding. Paulding County also maintains a very active 4-H program to share Ag Education, Citizenship, and Leadership via Youth Development outreach.
"Our 4-H clubs include opportunities for kids to compete in public speaking contests, S.A.F.E. Shooting Sports, and teams based on content including Forestry, Poultry, and Food Science," Sheffield said.
Master Gardeners created a garden office aimed at helping teach our youngest county residents about gardening. It's a sensory garden meant to help young children experience the garden through all five senses.
"And our Agriculture and Natural Resources program assistant had a great first year with a Junior Master Gardener Club for Elementary school-aged kids. Our 4-H Staff continues to serve school-based club meetings monthly with STEM lessons to support the curriculum and public speaking lessons to support English Language Arts standards," she said.
To learn more visit the county extension's website, or contact their office at www.ugaextension.org/paulding.