Pickleball growing, serving Paulding County's Special Needs population
USA Pickleball Ambassador Paulding County, Daneen England says the legion of local Pickleballers is growing and the sport is also serving a Special Needs population in Paulding and neighboring counties. Last week Ms. England did a presentation prior to the Chamber Luncheon at Greystone's Headquarters in Hiram. The Chamber's keynote topic for August was Diversity, Equity, and Inclusion, and England's presentation was an appropriate adjunct to last week's event.
And following last week's event, England responded to an email request for more information.
"This presentation not only emphasized the physical adaptability of pickleball but also underlined its ability to break down barriers and create a sense of unity among participants," England said.
England's demo just outside the GreyStone event room was in sync with other topics "Equity" and "Inclusion," as well.
"Through an engaging demonstration of pickleball skills, our volunteers showcased the transformative power of sports in fostering a welcoming and diverse community," England said. "We were proud to have participants from various backgrounds, including a spirited wheelchair user, and an inspiring amputee who adeptly played the game using crutches."
England said the event was a testament to their shared belief in the unifying potential of pickleball.
"It was heartening to witness how pickleball can go beyond competition and become a platform where individuals from all walks of life come together to celebrate their unique abilities and forge lasting connections," she said.
Pickleball is a bit of an amalgam of tennis and table tennis and is played on a down-sized or badminton-sized court, with an oversized table-tennis style paddle, or racket, and a waffle-style ball. The sport is also catching on with seniors who have embraced the game as a nice way to get out, exercise, see friends, and still keep the workout on a low-impact level.
According to pickleball court data at Pickleheads.com, there are 10 pickleball courts in Paulding. The top five courts in and near Dallas include Burnt Hickory Park (public court), Mt. Tabor Outdoor (public court), Lost Mountain Park Tennis Center (public court, Powder Springs), Dellinger Park (public court, Cartersville), and Joe Cowan Park (public court, Euharlee).
Proponents of Pickleball explain why the game has such a broad appeal. "Beginners can go out their first time, learn the game, have fun, and even win a few games. But advanced players stay challenged, and keep coming back for more. This dynamic is a big reason why pickleball continues to grow like crazy."
"We're committed to continuing our efforts in promoting inclusivity through pickleball and hope to inspire others to embrace diversity within our community," England said. "If you have any questions or would like to learn more about our initiatives, please don't hesitate to reach out."
Those interested in playing pickleball or lessons can reach out to England at and/or join the Paulding Pickleball Facebook page - https://www.facebook.com/groups.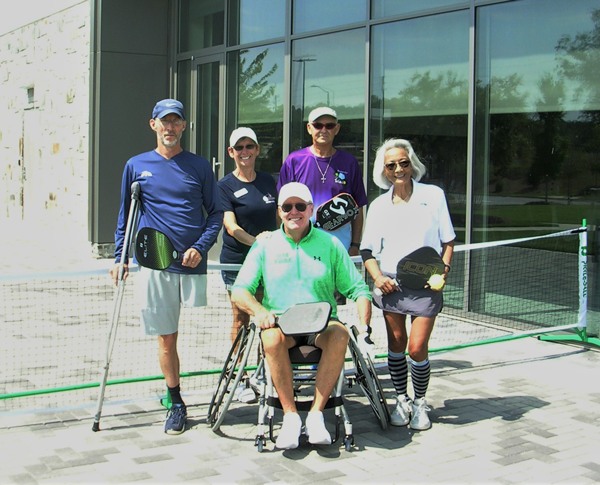 Eric Highsmith, Paulding Pickleball Ambassador Daneen England, Duane Loftus, Bartow Pickleball Ambassador, Michael O'Leary, Cobb Pickleball Ambassador Ginny Jarvis. (Photo: R. Grant)