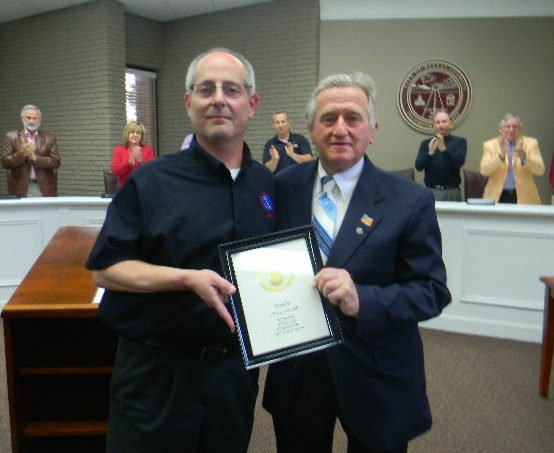 L. Douglas Griffith Receives 40th Year Award from National Weather Service. A pretty rare event occurred during the Dallas City Council meeting on Monday the 30th of March. One of Dallas' own residents received a Length of Service award marking the 40th year that he has been doing weather observations for the National Weather Service in Peachtree City.
L. Douglas Griffith, long time resident of Dallas, was presented with an award certificate, a pin, and a National Weather Service coin to commemorate his accomplishments by the National Weather Service's Observation Program Leader from the Peachtree City office, George Wetzel.
The program that L Douglas participates in is the Cooperative Network Program that has its origins back in the mid 1700's. Thomas Jefferson and Benjamin Franklin were among the first few people to record daily weather information for a specific location over a period of time. This became the COOP program of over 10000 volunteers across the country that the NWS works with to collect 24 hour high and low temperatures and rain and snow information across the country. This is the basis for all climatology and weather records. In Georgia we have some individuals that have exceeded 55 years of reports and a family that has been observing for almost 160 years.
Finding individuals and families to continue these unpaid but vital positions for the NWS and the local cities and town and states they affect can be difficult. That is why it is important to recognize those folks that do this because they enjoy it and they are appreciated. 40 years is a long time to be dedicated to anything.