Donation made to Women's and Children's Shelter in PC
At our recent 1st Responder Day Sharpe Eye Inspections, T Justin Cole- Owner/Operator and Paulding County Farm Bureau partnered to raise money for Shepard's Rest Ministries, the only women's and children's shelter that has serviced Paulding County for 22 years. Opportunities were given to the 1st Responders in attendance to win prizes with a donation. PCFB and Sharpe Eye matched the prize money and made a donation of $250.00. Dr. Kathryn Melton was here today to receive the check and our gratitude for her role as a 1st Responder as well. Shepard's Rest Ministries is a non-profit organization serving our community for 22 years. They are always looking for donations to help with the cost-free opportunities offered to the clients. If you would like more information to know you too can help with this endeavor please call us here at Paulding County Farm Bureau and we will be very proud to lead you in the right direction.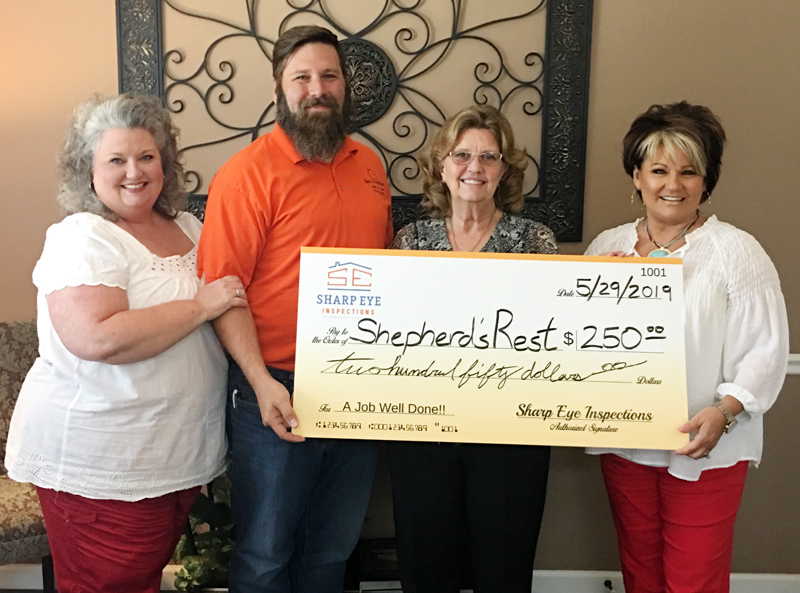 Pictured left to right PCFB County Coordinator, Tracy Grice; Sharpe-Eye Inspections, Justin Cole; Shepard's Rest Ministries Director, Dr. Kathryn Melton and PCFB Agency Manager, Lisa Dingler.