American Legion Riders Presented "Eagle of Freedom"
The American Legion Riders of Post 111 in Dallas were recently gifted an "Eagle of Freedom" statue by Jim "Double Shot" Williams and his wife, Linda Williams. Mr. Williams, a 100% disabled, U.S. Army, Vietnam Veteran, received three honorable discharges, for his service during several periods from 1967 to 1975. He was one of the three original founding members of the American Legion Riders at Post 111. The strikingly carved gold eagle statute, with outstretched wings, is mounted on top of a black pedestal displaying the American Legion Riders national logo. The gray metal base of the statute contains a biker's prayer that was compiled by David "Super Dave" McCoy, a U.S. Navy Veteran and former officer of the American Legion in Dallas. Mr. Williams and his wife purchased the eagle and designed its base, with Mr. McCoy, as a visible and lasting gift from the founding members for all current members and future generations to enjoy.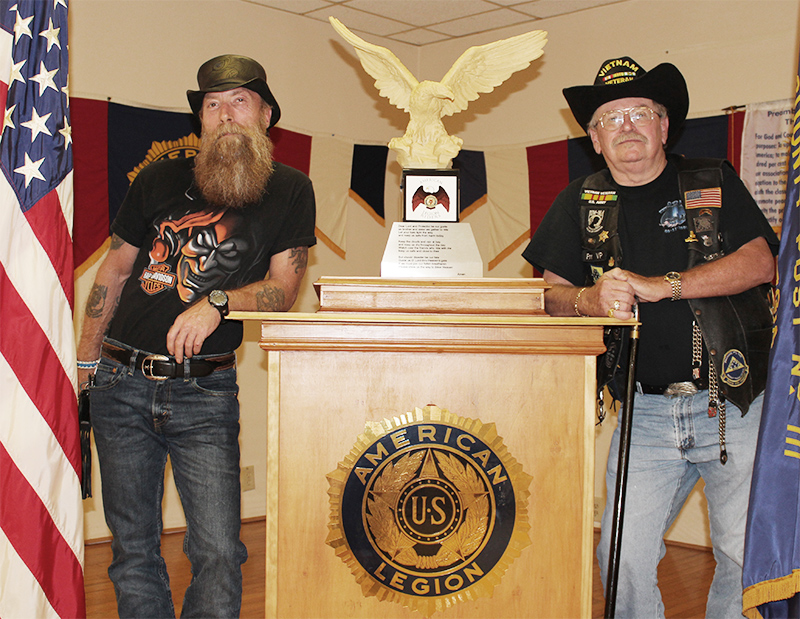 The American Legion Riders are a national program of the American Legion. Established in 1993, members have a common love for motorcycles. The Riders promote the programs and goals of the American Legion in their community, state and nation. Members are supported by a Post or Department of the American Legion and consist of current members of The American Legion, American Legion Auxiliary or Sons of the American Legion (SAL). The organization is known for their charitable work which has raised hundreds of thousands of dollars for veterans, service members and their families, veterans' homes, children, schools, hospitals and members of local communities. The American Legion Riders are said to be the most visible group of the American Legion. They are often seen by the public assisting at parades, funerals, memorial ceremonies and services, as well as on rides to honor fallen military members or to raise funds for those in need. Further, they provide escorts to departing or returning military units.
The local American Legion Riders can be found actively participating in all events held at the local American Post in Dallas, such as the annual "Easter Egg Hunt, "Trunk or Treat" and "Cookies with Santa." Other special events, such as "Back the Badge," a fundraiser and show of support to local law enforcement agencies, are spearheaded by the Riders. The next event sponsored by the Legion Riders at Post 111 will be a fun Polar Bear Ride on February 18th.
Additionally, members practice safe riding skills at "Sunday Fun Days" and compete against riders from other American Legion Posts. In fact, the Legion Riders from Post 111 are the reigning 5th District of Georgia Bike Rodeo champions. Members of the Post will be defending their championship on Saturday, April 22nd. Any current American Legion Rider in the 5th District of Georgia is eligible to compete in the Bike Rodeo. Members of the public are invited to view the event. Details will be published closer to the time of the event.
Membership in the American Legion is open to eligible war era veterans and their family members. To learn more about Post 111 in Dallas, at 2587 Scoggins Road you may contact the Post at (770)445-2759. Look for upcoming American Legion Rider Events at Post 111 on Facebook.
Pictured above are Dave McCoy, left, and Jim Williams, right, who presented the "Eagle of Freedom" to the American Legion Riders at Post 111 in Dallas.