American Legion Riders Host 2nd Annual 5th District of Georgia Motorcycle Rodeo
On Saturday, June 3, 2017, the American Legion Riders 5th District of Georgia held their second annual Motorcycle Rodeo. The event, hosted by the American Legion Riders at Post 111 in Dallas, was a motorcycle skills competition designed to improve overall rider skills and build confidence in safely maneuvering road hazards.
James Foy, a United States Marine Veteran, the Senior Vice Commander of American Legion Post 111 and 2016-2017 Road Captain for the American Legion Riders at Post 111, was the Event Director again this year. Senior Vice Commander Foy stated "I've often said that most anyone can go fast. Not everyone can go slow. To truly control a motorcycle that weighs anywhere from 800 to 1000 pounds, it takes concentration and skill and that was the focus of this event."
The competition was open to any current American Legion Rider in the 5th District of Georgia. Riders represent their Post, but individually compete in the timed events. Last year, John Cagle, President of the American Legion Riders Post 111, won the competition, thus making Post 111 the defending champions.
The competition was extremely tough, but Post 111 did not disappoint. The 2017 event winner, by a mere 1/100th of a second, was Todd Alford, a U.S. Army, Iraq War Veteran, who represented the American Legion Riders of Post 111. Brett Reece, the 2017-2018 Chaplain-elect of the American Legion Riders at Post 111, placed second.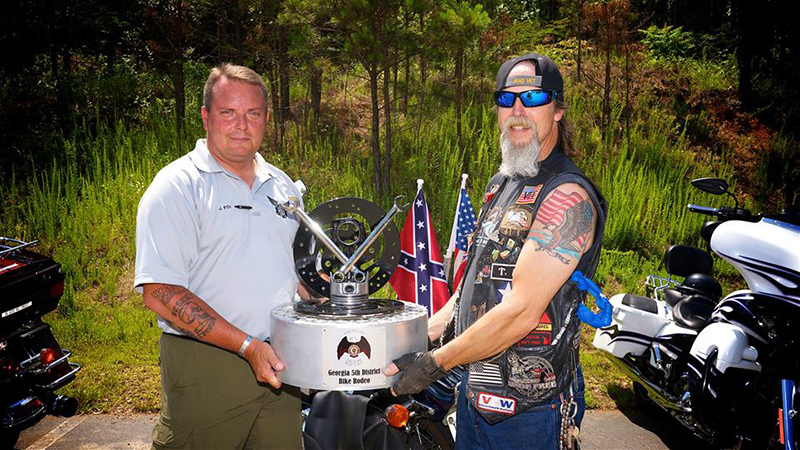 At the conclusion of the Motorcycle Rodeo, Mr. Alford was presented the unique handcrafted, powder-coated and diamond plated trophy that will be retained by Post 111 until next year's competition. Event proceeds will be donated to winner's choice of Veteran charities. Post 111 selected the American Legion Riders "Director's Special Project" to help Georgia Veterans and the "Wounded Warriors Retreat" as the charities of their choice.
The American Legion Riders are a national program of the American Legion. They promote the programs and goals of the American Legion in their community, state and nation. Members are supported by a Post or Department of the American Legion and consist of current members of The American Legion, American Legion Auxiliary or Sons of the American Legion (SAL). The organization is known for their charitable work which has raised hundreds of thousands of dollars for veterans, service members and their families, veterans' homes, children, schools, hospitals and members of local communities. The American Legion Riders are said to be the most visible group of the American Legion. They are often seen by the public assisting at parades, funerals, memorial ceremonies and services, as well as on rides to honor fallen military members or to raise funds for those in need. Further, they provide escorts to departing or returning military units.
Membership in the American Legion is open to eligible war era veterans and their family members. To learn more about Post 111 in Dallas, at 2587 Scoggins Road you may contact the Post at (770)445-2759, stop by their membership table at the Downtown Dallas Merchants Association's "Food Truck Friday" events or look for upcoming American Legion Post 111 events on Facebook.
2017 Event Winner Todd Alford
photo credit: Brett Reece