Paulding County Veterans Day Service 2017
American Legion Post 111 and members of the Paulding County Veterans Memorial Committee held a Veterans Day Service downtown Dallas on Saturday, November 11th at 11:00 AM. The 24th annual service was held in honor of all Veterans living and deceased, especially those who died while serving our country, with a special remembrance for the eighty-two Paulding County Veterans who perished in World War I, World War II, Korea, Vietnam and in the Middle East.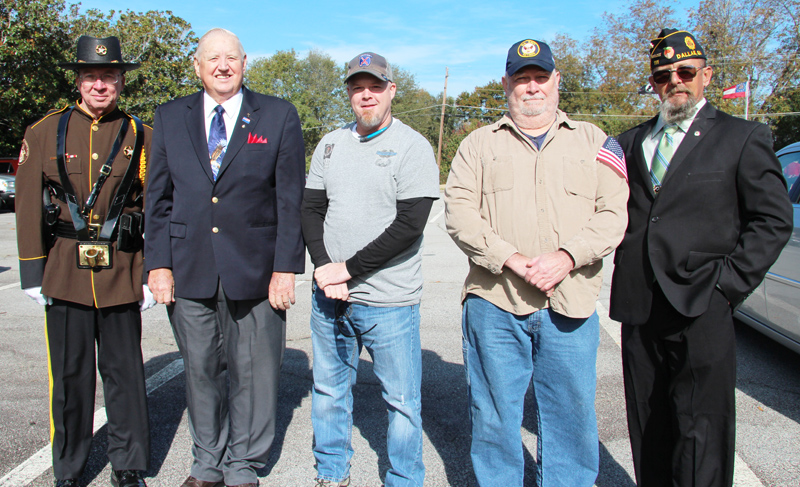 Members of the American Legion Auxiliary Unit 111 and the Paulding - West Cobb Lions Club passed out American Flags prior to the opening ceremonies. Scattered among the crowd were many veterans, some in their service uniforms and most wearing a hat, article of clothing or pin representing their branch of service.
The memorial began with the always stunning presentation of colors by members of the Paulding County Sheriff's and Fire Departments, followed by our National Anthem, beautifully sung by Ms. Tabitha Ketchum. The audience then recited the Pledge of Allegiance in unison followed by an invocation provided by Mr. William McPherson, Chaplain of American Legion Post 111.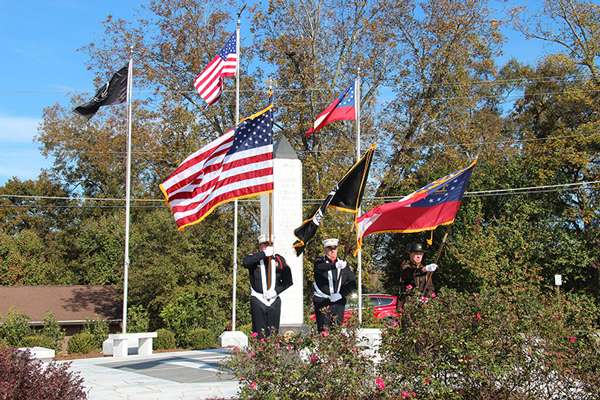 After the invocation, Mr. Bill Fleisch, Commander of American Legion Post 111, welcomed the audience. Mr. John Black, a past Commander of American Legion Post 111, then introduced the keynote speaker, 17th District, State of Georgia, Representative Howard Maxwell.
Representative Maxwell, called attention to the set of dog tags that were visible around his neck. He said that several people questioned if the dog tags were his as they knew he was a Vietnam Veteran. "No," he replied, they belonged to his Uncle, whose name was one of those engraved on the Paulding County Veterans Memorial. Representative Maxwell then told the story of his Uncle, Clark L. Maxwell, a local boy from Crossroads, who was only "eighteen and 8/12th years" of age when he joined the Army, per his official records. The young Mr. Maxwell, a participant in D-Day on Omaha Beach, was wounded in action on June 7, 1944. He was paralyzed from the waist down as the result of his injuries, was awarded a Purple Heart, and sadly, passed away from his wartime injuries in 1950.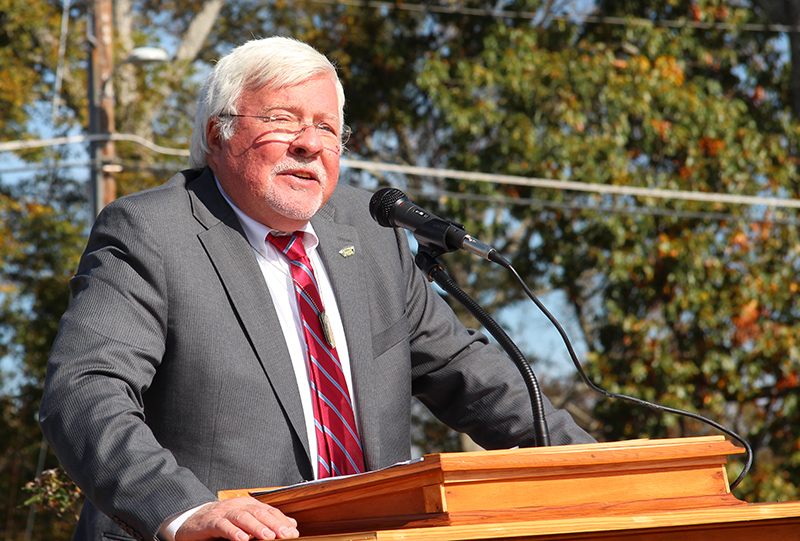 Representative Maxwell recalled his uncle with fondness and described him and other veterans as ordinary men, who did extraordinary things for their country. Representative Maxwell mused that to show patriotism is "no better way to honor our veterans." Further, he stated that it should not take attacks on our country, such as the events of 9/11, for people to bring out their flags. The message resounded with the audience as he received a hearty applause at the conclusion of his speech.
David McCoy, a U.S. Navy Veteran from American Legion Post 111, then processed forward and placed an arrangement of red, white and blue flowers at the base of the granite monument inscribed with the names of Paulding County residents killed during periods of war.
The service was concluded with the always impressive Twenty-One Gun Salute by members of the Paulding County Sheriff's Department Honor Guard, under the direction of Lieutenant Randall Gravett, followed by the solemn playing of taps by Detective Lenny Carr.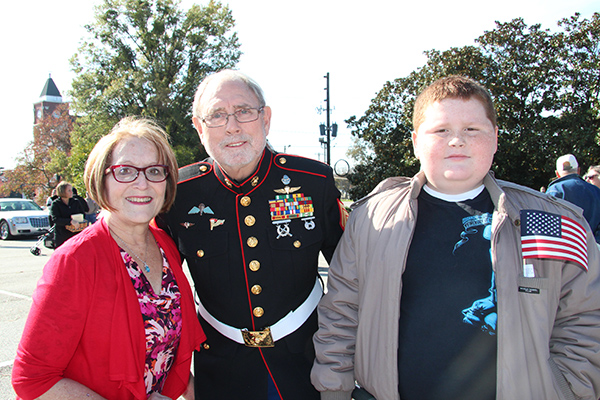 Photo-1 Veterans from American Legion Post 111.
Photo-2 Paulding County Sheriff's Department and Paulding County Fire Department Color Guard.
Photo-3 Representative Howard Maxwell
Photo-4 Nanette, David, and Patric Hayes.