Waste Industries via "The Full Circle Project" Donates to American Legion to aid Roof Repair Fund
"The Full Circle Project," a charitable arm of Waste Industries USA, Inc., recently donated $5,000.00 to the American Legion Post 111 in Dallas to assist with their "Raise the Roof" fund.
The American Legion unexpectedly received the generous donation due to the actions of U.S. Army Master Sergeant (Retired), Darrell Welch. MSG Welch is a 21-year Army veteran who served in Iraq, Kuwait and had three tours in South Korea. He participated in Operation Desert Storm, Operation Iraqi Freedom and in Thunder Run with the Third Infantry at Spartan Brigade. His last assignment before retiring was to train reservists called to active duty prior to their deployment to Iraq and Afghanistan.
MSG Welch is the Atlanta West shop manager for Waste Industries, a company based out of North Carolina, that "offers trash and recycling collection for residential and commercial customers, across the South-East of the United States." At his very first meeting as a new member of American Legion Post 111, MSG Welch learned of the Legion's issues with their badly leaking roof and their attempts to raise money to either repair or replace it.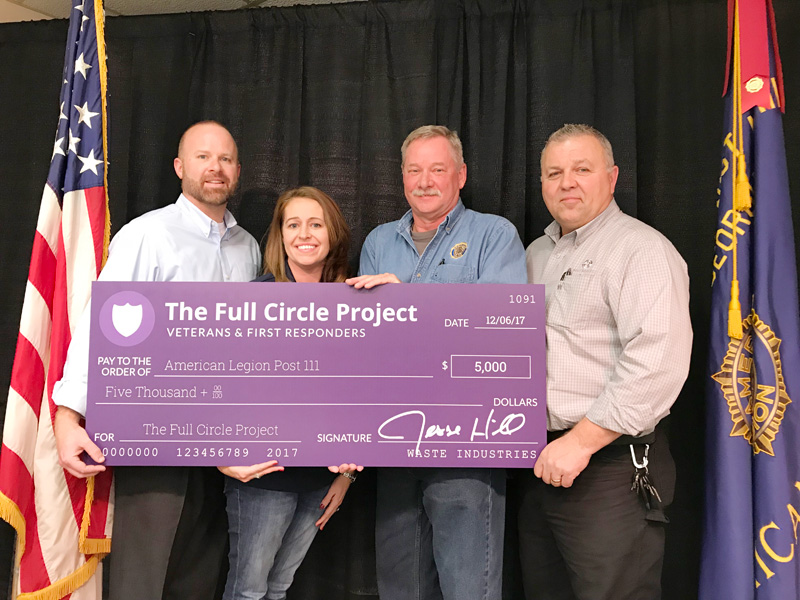 At the office of Waste Industries, MSG Welch learned about "The Full Circle Project" from Jesse Hill, the Douglasville Branch Manager of Waste Industries. The Full Circle Project aids communities where Waste Industries operates. Both the company and its customers contribute to the funds that are donated to worthy charitable projects. MSG Welch recommended Post 111 and described their need for a roof and submitted it through the program. It passed the various stages of the selection process and finally went to a panel that approved the donation. A $5,000.00 check was then presented to American Legion Post 111 at their monthly general membership meeting.
To learn more about The Full Circle Project, Waste Industries, Inc. has more information on their website at https://wasteindustries.com/fullcircleproject.
Membership in the American Legion is open to eligible war era veterans and their family members. To learn more about Post 111 in Dallas, or the "Raise the Roof" fund you may contact the Commander Bill Fleisch at (770)445-2759. Donations are accepted at the Post or can be mailed to American Legion Post 111, P.O. Box 58, Dallas, GA 30132.
Photo: Left to Right – Jesse Hill, Douglasville Branch Manager, Waste Industries, Amanda Renova, Atlanta-Marietta Sales Representative, Waste Industries, Bill Fleisch, Commander, American Legion Post 111 and Darrell Welch, U.S. Army (Retired) and Atlanta West Shop Manager, Waste Industries.