TWO MEN AND A TRUCK® Kicks Off
Movers for Mutts Drive to Help Strays in Animal Shelters
Community-Supported Program Aids Homeless Animals This Fall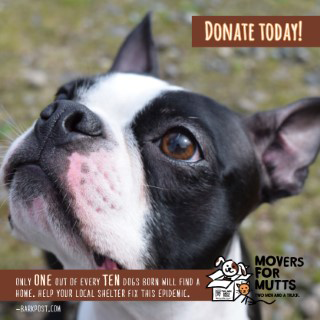 Pets are considered an important part of any family, but this fall, many of them are strays living in animal shelters that could use the community's support in securing adequate amounts of food, toys, and everyday living essentials for pets in need.
Eye-opening statistics from the ASPCA reveal that approximately 7.6 million companion animals enter animal shelters nationwide every year. To assist animal shelters that house and support strays, TWO MEN AND A TRUCK® Douglas County is hosting its annual Movers for Mutts collection drive to provide necessary pet items to animal shelters and stray pets this fall season.
This year, TWO MEN AND A TRUCK® is partnering with shelters, schools, and businesses from areas surrounding Paulding and Douglas Counties. These locations will serve as drop off points for essential pet items.
Douglas County Chamber of Commerce, Paulding County Chamber of Commerce, Aqua-Tots Swim Schools – Douglasville, Burke's Grill, Douglasville Therapeutic Massage, Moses Middle School, Pet Supplies Plus – Carrolton.
The shelter Wish List includes:
Dog Treats and Food
Ink Pens & Sharpie
Markers
Doggie Poop Bags
Towels/Fleece
Newspapers
Foam Hand Sanitizer
Bleach
Laundry Detergent
Housetraining Pads
Cat Treats and Food
Paper Towels
Toys
TWO MEN AND A TRUCK® is the largest franchised moving company both in the United States and internationally. Currently, there are 352 national locations and 2,669 trucks operating in the U.S.; in total, the company operates more than 380 locations and 2,700 trucks. TWO MEN AND A TRUCK® has performed more than 6 million moves since its inception in 1985. The company has seen consistent monthly growth dating back to December 2009 and more than 85 consecutive months of growth. Each location is independently owned and operated. For franchising opportunities, visit franchise.twomenandatruck.com.