Master Gardener Extension Volunteers 2018 Plant Sale
Spring has arrived and it is time to search out good plants at a good price. Each year the Paulding County Master Gardeners have a spring plant sale to give the public an opportunity to collect plants at excellent prices, receive education about those plants and help us fund the many projects in which our Master Gardeners are involved.
We are hard at work providing you with an amazing selection of plants for our 2018 sale. Don't miss it! We started our preparations last fall propagating plants by division, rooting and seeding. We will have annuals, perennials, vegetables, shrubs, and trees, including many that are native and attractive to pollinators. You can find more details about our plant offerings by following us on Facebook: Just look for and like Paulding County Georgia Master Gardener Extension Volunteers.
In addition to our plants, we'll also host the annual Second Hand Rose. This will include many gently used plant-related items at yard sale prices.
This is our only fundraiser of the year so we try to serve and share value, education, and opportunity for the residents of Paulding County. We sponsor and participate in programs throughout the county in our schools, libraries, 4 H, provide a local scholarship opportunity, host "Ask A Master Gardener" events, and public programs throughout the year.
Mark your calendar for Saturday, May 5, from 8 AM to 1 PM. It will be fun and you will have an opportunity to ask questions about soil testing, the plants you are purchasing, reading your soil test results and anything thing else garden related. While you are here, visit our demonstration gardens: We have an onsite vegetable garden, butterfly garden, herb garden and perennial garden.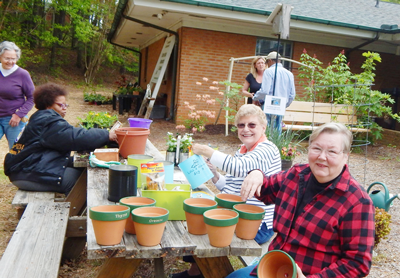 As representatives of the University of Georgia Cooperative Extension, Master Gardener Extension Volunteers are trained experts, who answer questions about home horticulture, sustainable landscaping, and environmentally friendly gardening practices using unbiased, research-based information from the University of Georgia. For more information on gardening in Paulding, contact a Master Gardener or the County Extension Agent at the Paulding County Cooperative Extension Office at 770-443- 7616 or check us out online at www.ugaextension.org/paulding.