Answering a Call: Taste and See Ministries
Here in Paulding County, on the outskirts of the big city, we like to think that 'Poverty' and 'Homelessness' are not present here. However, if you drive through the City of Dallas on a Monday or Thursday evening from 5-7 p.m. you will see the face of Paulding's homeless. Men, women, and children who are in need lined up outside a local church, just one block off Main street. These people are being served by one incredible woman of God. Stephanie Wall Womack, of Taste and See Ministries has answered the call of God's army. If you were to ask her how all of this started, she would more than likely say "I'm not sure, God just gave me a burden and one thing led to another. The community has just gotten behind me and now we serve." She began with a hand full of volunteers feeding on Wednesday nights. Now they deliver lunches to the children living at the extended stay hotels during summer, fall, winter, and spring breaks. When people hear about this ministry they either have a need for our help or they want to help us with the need here in our community. For everyone who has a need, God sends someone with an answer.
Paulding County has a homeless population numbering in the hundreds (exact figures are extremely difficult to determine due to the very nature of the demographics). We know there are 382 homeless children in our school system. They are your children's classmates! Many families and individuals are living in weekly extended stay hotels. Some families and individuals are living in their cars. In the past 18 months, our ministry has provided hot meals to the homeless, moved several families from temporary to permanent housing, and provided marginalized families (mostly single mothers with small children) with rent and utility assistance along with grocery help. We have also provided cold weather shelter for over 36 nights and served over 145 meals. They have also provided toiletries, warm coats and other clothing to the homeless.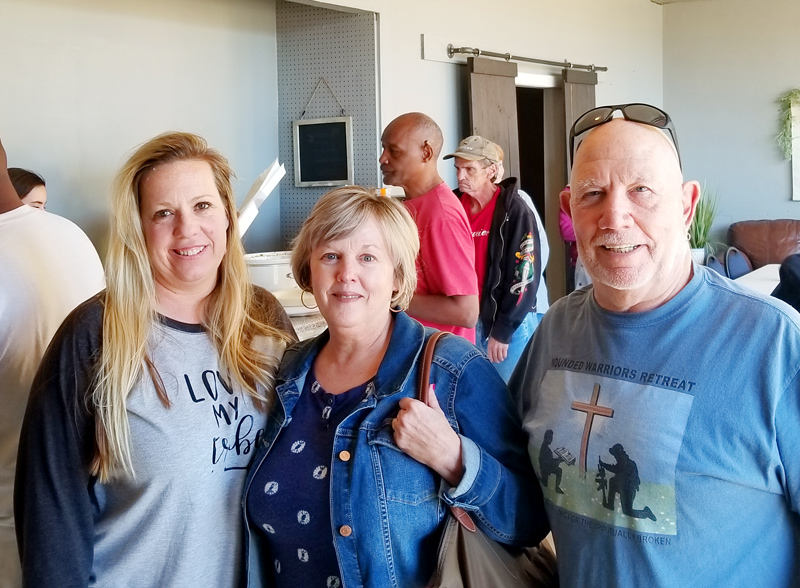 Known locally as "Taste and See Ministries" Hope Saves is a non-denominational faith-based organization in Paulding County. We are a grassroots coalition made up of churches, businesses, community, and civic organizations acting as the hands and feet of Jesus Christ on earth. Hope Saves, Inc. is a non-profit 501c3 we have no paid employees the entire operation is run by volunteers. All donations go to the mission of supplying basic human and spiritual needs to those in need. To help with donations or to volunteer please contact Stephanie Wall 404-392-1335
Photo L-R: Stephanie Wall, Darlene Green, and Jerry Green